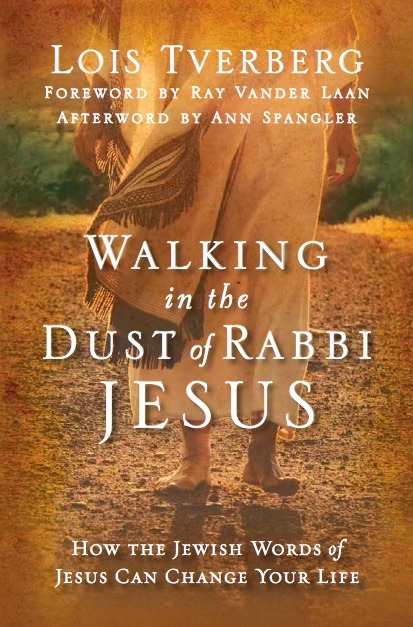 ~
Walking in the Dust
of Rabbi Jesus
How the Jewish Words of Jesus
Can Change Your Life
by Lois Tverberg
© Zondervan, 2012
ISBN: 0310284208
Price: ($18.99 List) $13.99
(Preview the first 3 chapters at this link)
($11.99 – JC Studies Haverim Special)
In Walking in the Dust of Rabbi Jesus, I look at some of Jesus' words in light of Jewish thought, and consider how hearing them in their Hebraic context can yield wisdom for today. I contemplate some Jewish ideas that deepen our understanding of Jesus' words and yield fresh, practical insights for following him today.
You may have read my earlier book, Sitting at the Feet of Rabbi Jesus. There, Ann Spangler and I explored Jesus' first-century world of rabbis and disciples, festivals, prayers and the Torah, and ask how Jesus' cultural setting sheds light on his mission and ministry.
In Walking, I ask what are the implications of Jesus' Jewish context for how we live as his disciples? Among other things, I explain
• How understanding Jewish idioms can help us better grasp what Jesus was saying
• How viewing Jesus within Middle Eastern culture can enliven his parables in surprising new ways
• How the Jewish world of Jesus can teach us how to pray with chutzpah or think with both hands
By understanding the religious and cultural atmosphere in which Jesus lived and taught, we'll begin to see why his first disciples abandoned everything to follow him. We'll also look at the meaning within key Hebrew words that make Bible reading richer and deeper.
Come eavesdrop with me on the conversations among the rabbis of Jesus' time. Learn how hearing Rabbi Jesus with the ears of a first-century disciple can yield practical insights that bring new depth to your spiritual life.
Here's the chapter outline. I've linked the titles that have excerpts on this blog.
Walking in the Dust of Rabbi Jesus
Foreword – Ray Vander Laan
I. Hearing Our Rabbi's Words With New Ears
1. Brushing Away the Dust of the Ages
2. Shema: Living Out What You Hear
3. Loving God with Everything You've Got
4. Meeting Myself Next Door
II: Living Out the Words of Rabbi Jesus
5. Gaining a Good Eye
6. The Mystery of the Name
7. How to Have a Kosher Mouth
8. Taking My Thumb Off the Scale
9. Praying with Chutzpah
10. Thinking with Both Hands
III. Studying the Word with Rabbi Jesus
11. The Treasure in the Text
12. The Secrets that God Keeps
13. Our Longing Father
14. God's Image Stamped in Dust
Afterword – Ann Spangler
Book reviews are now available – see this page. (Let me know if you review it and I'll add a link.)
~~~~
The book retails for $18.99, but you can order a signed copy with this link for $11.99 through July 2012. (This includes an extra $2 off for Haverim of the Center for Judaic-Christian Studies)

(Note: The ORJ website store uses Google Checkout to process orders. But the button on this page uses Paypal, which can process a credit card without logging into Paypal.)
See my earlier writing on the Books page of this site.