I recently wrote an article called "What Really Happened at Pentecost?" It was about where the scene in Act 2 occurs, when the believers were first filled with the Spirit.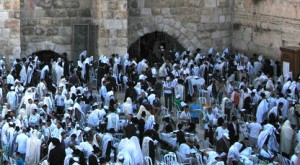 I explain that the likely setting is in the Temple, rather than in an upper room. At 9 AM in the morning, their attendance was required in the Temple for the celebration of the feast of Shavuot/Pentecost. It was there that crowds of foreign Jewish pilgrims would have heard them speak their own language, among other things. (See the article for more.)
One thing I've discovered as I learn about Jesus' Jewishness is that once one mystery gets solved, the fog starts lifting elsewhere. For instance, what was the significance of the wind and the tongues of flame that floated over the heads of the believers?
You can find several clues in Jewish traditions regarding Pentecost. For one, the day was a celebration of God's appearance on Mt. Sinai in Exodus 19-20. God's presence on the mountain was signified by wind and fire.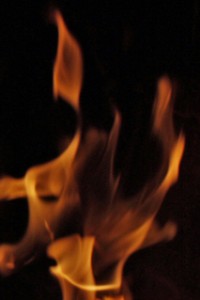 One traditional Jewish story (which I assume is a legend, personally,) is that when God came down to Mount Sinai, angels brought "crowns of fire" for every Israelite.
And, when God spoke, "The Divine voice divided itself into the seventy tongues of men, so that all might understand it… All heard indeed the same words, but the same voice, corresponding to the individuality of each, was God's way of speaking with them. And as the same voice sounded differently to each one, so did the Divine vision appear differently to each." (from Legends of the Jews, Louis Ginsberg)
This is a very ancient story, even if it isn't biblical or even historical. I wonder, though, how God was using it to broadcast the significance of this scene to the first-century Jews who saw it being played out before their very eyes.
Ezekiel and Isaiah
Another fascinating clue comes from a text that is still read today on Shavuot – Ezekiel 1-3. This is the dazzling, technicolor vision of Ezekiel. Have you ever looked at the details?
"I looked, and I saw a windstorm coming out of the north — an immense cloud with flashing lightning and surrounded by brilliant light… The appearance of the living creatures was like burning coals of fire or like torches. Fire moved back and forth among the creatures; it was bright, and lightning flashed out of it." (Ezekiel 1:4, 13)
Hmm…a great wind and fire that floats in the air. Sound familiar?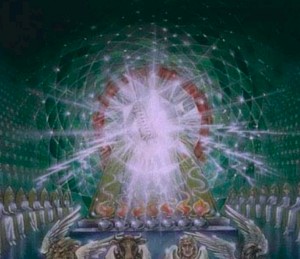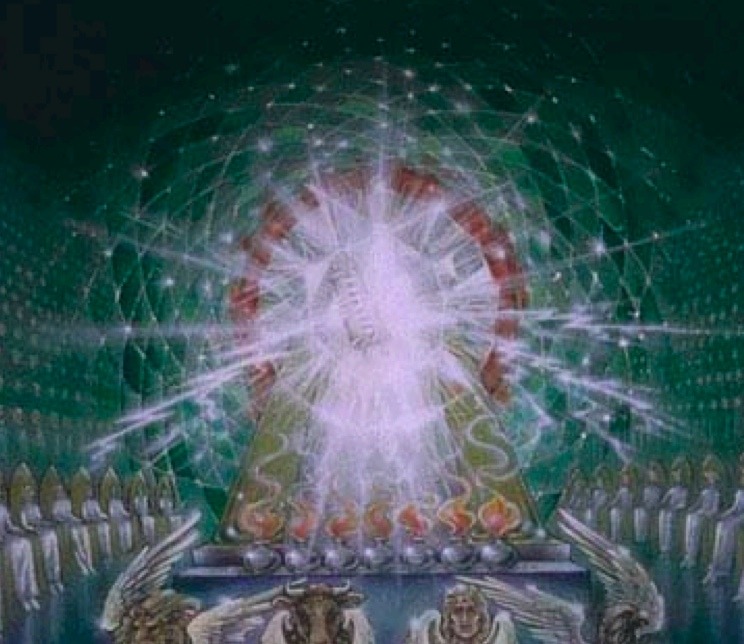 We find a similar scene is Isaiah 6:6, where Isaiah sees a vision of angels worshiping God, and one angel brings a "coal" to his mouth to purify his lips. He is commissioned to take God's word to Israel.
Both Isaiah and Ezekiel experienced these visions for a purpose. God was appointing them to speak as prophets to Israel. Very interestingly, God tells Ezekiel,
"Son of man, go now to the house of Israel and speak my words to them. You are not being sent to a people of obscure speech and difficult language, but to the house of Israel — not to many peoples of obscure speech and difficult language, whose words you cannot understand." (Ezekiel 3:4-5)
Hmm…God was sending Ezekiel to Israel, who speaks his language. In Acts, the Spirit gives the believers the ability to speak in every language. They weren't just being sent to Israel, they were being sent out to the world.
Acts 2 was a Theophany
These passages in Exodus, Isaiah and Ezekiel are all theophanies – manifestations of God's divine presence before humans. In Exodus, God commissions Israel to represent him as his people, and he gives them his Law so that they can reflect his holiness. In Ezekiel and Isaiah, God commissions these prophets to proclaim his Word to his wayward people.
These accounts shed new light on the scene in Pentecost. God was publicly commissioning Jesus' disciples to take the Gospel to the world. The Holy Spirit filled them with the ability to proclaim God's praises in every language. And the very first thing that Peter does is to preach to the masses, and thousands of people become believers that day.
Wow, when we read the New Testament in its Jewish context, it brims over with new meaning. We can see how God was replaying glorious scenes from Israel's history to announce the mission that he had given believers in Christ – to share his message with the world.