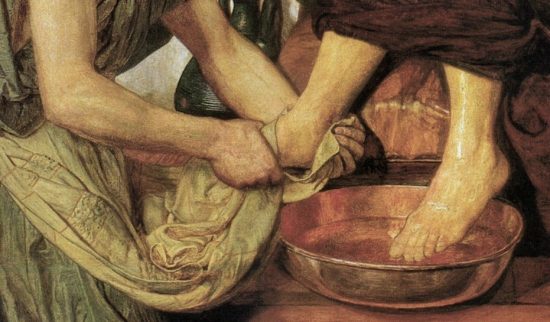 [Jesus] got up from the meal, took off his outer clothing, and wrapped a towel around his waist. After that, he poured water into a basin and began to wash his disciples' feet… [Afterwards, he said,] "Now that I, your Lord and Teacher, have washed your feet, you also should wash one another's feet. – John 13:4-5,14
Humility and serving others was of great concern to Jesus. In the above passage, Jesus embodies these themes in his washing of the disciple's feet. He speaks with disgust about teachers who "love the place of honor at banquets and the most important seats in the synagogues" (Matt. 23:6) and adds, "The greatest among you will be your servant. For whoever exalts himself will be humbled, and whoever humbles himself will be exalted." (vs. 11-12).
Honor was vital in the first-century Jewish world, and many customs differentiated those with lesser status from those with more. Specifically, students were expected to honor their teachers, and disciples their rabbis. Disciples were to act as servants to their rabbi, serving his food and pouring water over his hands for him to wash. Their model was Elisha who humbly served as Elijah's mesharet, meaning "assistant" (2 Kings 3:11).
When Jesus washed the feet of his disciples, he not only violated the custom that delegated this task to the lowest household servant…