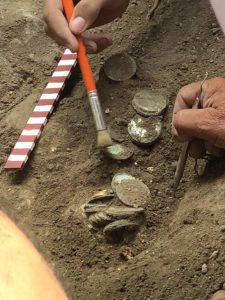 Have you ever wished you could to take part in an archeological dig in Israel? Here's a chance of a lifetime!
This summer, there will be two excavation sessions at El Araj, the most likely location of Bethsaida, a New Testament village on the Sea of Galilee. Taking place on June 26-July 10 and then on July 10-24, both sessions are open to volunteers, and students are able to get academic credit for the dig.
Biblical Significance of Bethsaida
He took them and withdrew apart to a town called Bethsaida. When the crowds learned it, they followed him, and he welcomed them and spoke to them of the kingdom of God and cured those who had need of healing. (Luke 9:10-11)
Bethsaida is a key location in the gospels. It is the birthplace of three of Jesus's disciples, Peter, Philip and Andrew, and where Jesus did much of his ministry. There, he gave a blind man sight (Mark 8:22), fed the five thousand (Luke 9:10-17), and walked on water (Mark 6:45).
Despite its significance, scholars have been unsure of where Bethsaida was located. We know that it was a fishing village, so it was probably near the lake. The site that had been assumed to be Bethsaida is located over a mile from the Sea of Galilee, probably too far from the lake to be…