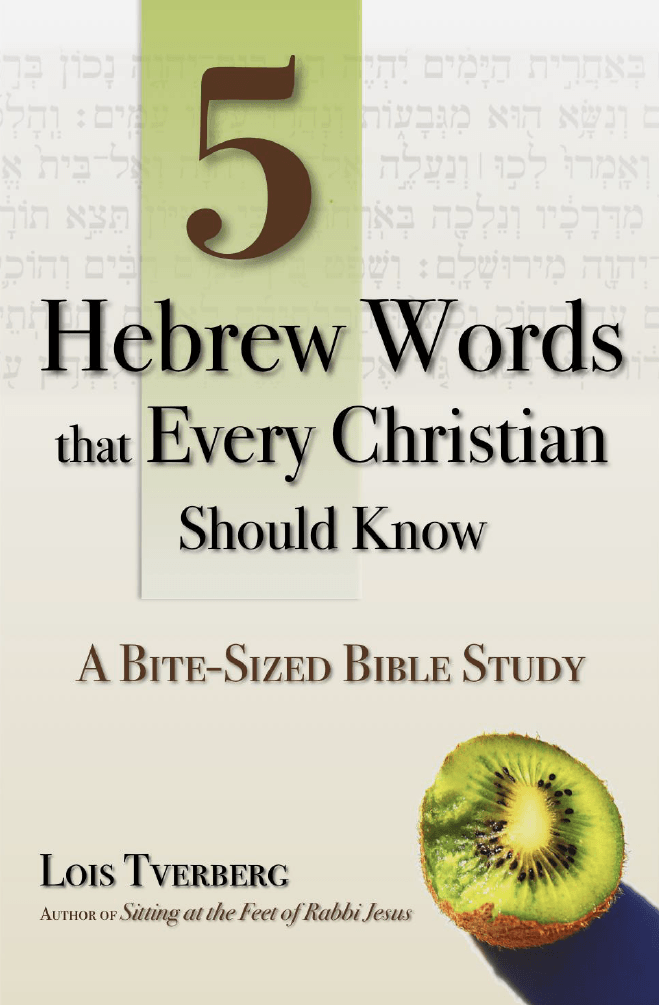 By Lois Tverberg
© Lois Tverberg, 2014
eBook, 46 pages
Price: $3.99
5 Hebrew Words that Every Christian Should Know is a friendly, bite-sized study of five flavorful Hebrew words.
Readers will get a taste of the ancient wisdom of Hebrew, the Bible's heart-language, and see how useful it can be for reading both Old and New Testaments. Along the way they'll uncover delightful word-plays that simply don't translate into English, and find out how Hebrew unlocks mysteries like…
…how people can have ears but not "hear"
…how (or if) God can "forget" a person
…how sins can be "visited" upon someone
5 Hebrew Words was written as an ebook because the online format allows readers to use links to view each Bible verse in multiple translations. Seeing how different translators interpret a Hebrew word is often helpful for getting a sense of a word's range of meaning. Readers are invited to reflect on how the deeper meaning of each Hebrew word impacts what the Scriptures are saying to their own lives.
The ebook allows readers to experience for themselves how translators deal with the expansiveness of Hebrew words, which are richer and wider than their English equivalent. Each study yields insights that will enrich Bible reading for years to come.  Through the book's brief lessons, 5 Hebrew Words reveals that Bible study is far richer when we read the Scriptures in light of their original language and culture.
Available as an ebook only (as a PDF), but owners are welcome to print a copy for study and note-taking. Kindle owners, see below.
$3.99
5 Hebrew Words that Every Christian Should Know
Use the "Buy Now" button above if you just want an ebook. It will work anywhere in the world. Use the "Add to Cart" button below if you would like to buy other books. (Note: "Add to cart" can only process orders within the U.S.A.)
.
Important Note for Ordering:
After you pay, you will get a window from Paypal that will give you a link that you need to click to go to the secure page to download the book. If you close that window without using the link to open the next page, you won't be able to do it later.
If this happens, just write a note to Tverberg (at) OurRabbiJesus.com and I'll send you the ebook by email.
Kindle owners: After you download this ebook, here's how to view it on your Kindle: Go to your Kindle's "Settings" to find your Kindle's email address. Then send an email to your Kindle with the ebook pdf attached.
You can order 5 Hebrew Words at the Kindle store if you'd rather, but the Amazon ebook is not printable. I'll make you a deal, though. If you forward a copy of your Amazon e-receipt to my email address (above), I'll send you a printable (pdf) version of the book.