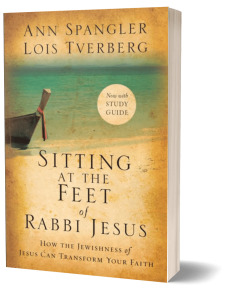 Sitting at the Feet
of Rabbi Jesus
How the Jewishness of Jesus can Transform Your Faith
by Ann Spangler & Lois Tverberg
© Zondervan, 2018
Format: Softcover, 302 pages
List Price: $19.99 US / $23.00 CAN
ISBN: 0310330691,  ISBN-13: 9780310330691
February 2018: New, updated edition in soft cover! Now contains study/discussion guide and Passover Seder instructions. 30 more pages!
A rare chance to know Jesus as his first disciples knew him.
What would it be like to journey back to the first century and sit at the feet of Rabbi Jesus as one of his Jewish disciples? How would your understanding of the gospel have been shaped by the customs, beliefs, and traditions of the Jewish culture in which you lived?
Sitting at the Feet of Rabbi Jesus takes you on a fascinating tour of the Jewish world of Jesus, offering inspirational insights that can transform your faith. Ann Spangler and Lois Tverberg paint powerful scenes from Jesus' ministry, immersing you in the prayers, feasts, history, culture, and customs that shaped Jesus and those who followed him.
You will hear the parables as they must have sounded to first-century Jews, powerful and surprising. You will join the conversations that were already going on among the rabbis of his day. You will watch with new understanding as the events of his life unfold. And you will emerge with new excitement about the roots of your own Christian faith.
Sitting at the Feet of Rabbi Jesus will change the way you read Scripture and deepen your understanding of the life of Jesus. It will also help you to adapt the rich prayers and customs you learn about to your own life, in ways that both respect and enrich your Christian faith.
By looking at the Jewishness of Jesus, Ann Spangler and Lois Tverberg take you on a captivating journey into the heart of Judaism, one that is both balanced and insightful, helping you to better understand and appreciate your own faith.
---
•  Download a sample chapter (pdf): RabbiJesusSample
•  Read my blog post, Lois, what's the difference between your "Rabbi Jesus" books?
•  Read reviews of Sitting at the Feet of Rabbi Jesus
•  View the informational page at Zondervan
•  Learn more about Ann Spangler and Lois Tverberg
•  View the book's press release, "Getting to Know the Jewish Jesus."
---
Note: If your study group or church would like to buy copies of Sitting at the Feet at a group discount, please contact me. (I'll autograph them if you like.)
Going to Israel? You can buy Sitting at the Feet at the gift shop at the Garden Tomb. Sitting has also been translated into Spanish, Dutch and Chinese.