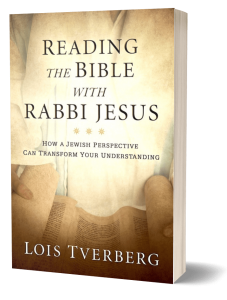 Reading the Bible
with Rabbi Jesus
How a Jewish Perspective
Can Transform Your Understanding
by Lois Tverberg
© Baker Publishing, 2018
ISBN: 0801017155
Download a free sample chapter
 Paperback, 288 pages  $16.99 $12.99
The Bible is an Eastern book. We see it through the colored glasses of Western culture. Much is lost. … What lies between the lines, what is felt and not spoken, is of deepest significance. (From "The Cross and the Prodigal," by Kenneth Bailey)
One of the biggest obstacles to understanding Scripture is failing to appreciate its Jewish, Middle Eastern context. Combining careful research with engaging prose, Lois Tverberg equips her readers with tools to transport themselves across the cultural divide between West and East, between our world and that of the Bible.
Tverberg highlights cultural ideas that are lost on modern Westerners, allowing us to read the Bible through the eyes of its original audience. She explores how Jesus preached and made bold claims to be the promised Messiah in a very Jewish way. By helping readers grasp the perspective of Jesus' first listeners, she equips them to read the Bible in ways that will deepen their understanding and enrich their lives.
The book explores questions like:
• How the wider meaning of Hebrew words can unlock Scripture
• How biblical subplots often revolve around ideas about family
• How individualists can learn to read the Bible as a "we"
• How the Bible was read "messianically" in the ancient synagogue
View/download the press release.
Read an interview about the book on BibleGateway
---
In her delightful style, Lois Tverberg engagingly leads us across cultures to begin to envision a different worldview, a worldview more consistent with the world of most of Scripture. In so doing, she brings alive texts of Scripture from the inside.
— Craig Keener, Professor of Biblical Studies;
Coauthor, NIV Cultural Backgrounds Study Bible
Her most insightful work yet. Every chapter takes us on a journey of discovery, opening our eyes to astounding realities and clarifying confusing or misunderstood passages. Every Christian should read this book!
— Brad Gray, Speaker and author, Walking The Text Ministries
Lois Tverberg is a trustworthy guide whose insightful discoveries provide a delightful appetizer to some of the most exciting passages in the Old Testament. I'm recommending it to everyone I know.
— Todd Bolen, Professor of Biblical Studies, The Master's University
Lois is a superb teacher, using story and gentle humor to great effect. I devoured this fascinating book. Highly recommended!
— Lynn Austin, Christian Fiction Author
---
Support the author by ordering the book from her office.
Only $12.99!
---

Reading The Bible with Rabbi Jesus
Table of Contents
(excerpts at links)
1. Opening the Bible with Jesus
I. Repacking My Mental Bags
      Tools for the Journey
2. Learning to Be There
3. What does "Christ" Mean, Anyway?
4. Painting in Hebrew
II. How the Bible Thinks
      Big Picture Ideas That You Need to Understand
5. Greek Brain, Hebrew Brain
6. Why Jesus Needs Those Boring Begats
7. Reading the Bible as a "We"
8. Like Grasshoppers in Our Own Eyes
III. Reading About the Messiah
        Seeing Him Through Hebrew Eyes
9. Memory Is Critical
10. Moses and the Prophets Have Spoken
11. Reading in the Third Dimension
12. Jesus' Bold Messianic Claims
13. When the Words Catch Fire
Appendices:
A. Books of the Tanakh
B. Thirty Useful Hebrew Words for Bible Study
C. Bible Translations for Word Study