I'm excited to share my first interactive webinar with you! Hosted by the Center for Judaic-Christian Studies, this five day, online seminar will take place October 5-9, 2020. I'll give a lecture each day, then have a discussion with you about it afterward.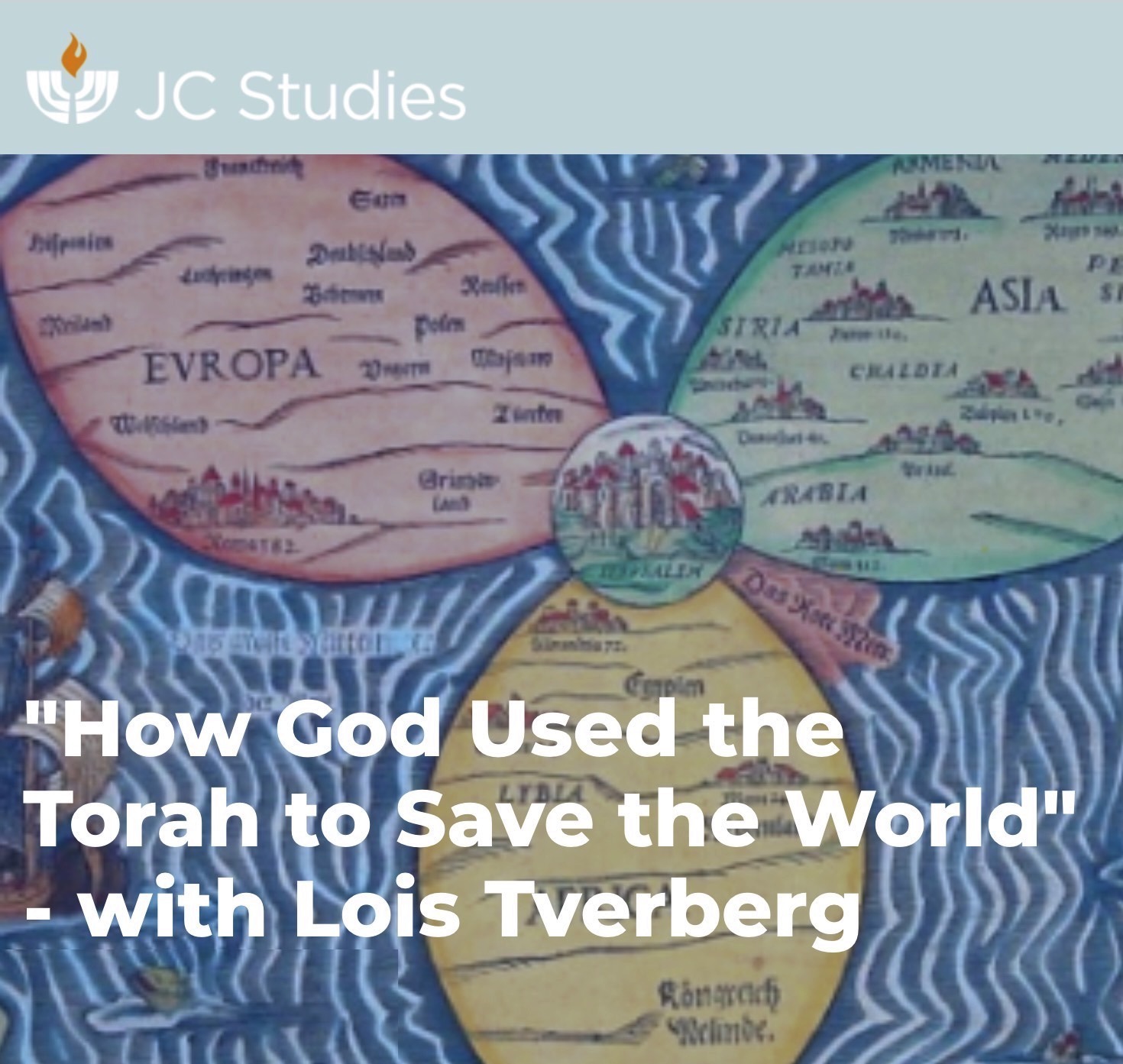 How God Used the Torah to Save the World
Scholars have been saying fascinating things about the Torah recently! As they've been studying the Ancient Near East, they are realizing how the Torah revealed profound truths about God to the people of that time. Many of its ethical laws were radical, yet foundational to how we think today. As we re-examine the Torah in context, we'll discover how it was preparing the way for Christ and pointing toward him.
Monday 10/5:         Sukkot – A Time for Torah Study
Tuesday 10/6:         Our Problems with the Torah
Wednesday 10/7:   What the Torah was Teaching
Thursday 10/8:      Laws that Transformed our World
Friday 10/9:            Preparing the Way for Christ
The full cost is $200 for this week of extended learning and discussion, or $150 for those enroll by October 1st. The recording will be available to purchase later too. Participants will receive two extra bonus free ebooks also. If you would like to enroll, go to this link at JCStudies.com.
How it works:
Each lecture will be posted 24 hours beforehand, and then we will have discussion times at 12 Noon and 8 PM Eastern Time (US) each day. (You only need to attend one.) We will record the talks and one of the discussion sections each day, which you'll be able to watch at any point afterward.
This gives us a very flexible format. Each day you need to:  1.Watch the video. 2. Send in your questions afterward. 3. Join into either at the noon or 8 PM discussion. During the discussion, I'll recap my talk, add a new thought or two, and then we'll have a discussion about the questions you sent in.  (You can chat with other haverim during the discussion too.) If you miss the discussion, a recording will be available later.
If you just can't make it, you'll be able to purchase the whole online course later too.
Note: If you have questions about pricing, scholarships, discounts, technical issues, etc, please contact JCStudies.com who is hosting the course. I'm not involved in business or technical details.
~~~~~

Even if you've read all of my books, the content will be brand new. I've written a lot about how seeing Jesus in his Jewish setting deepens our understanding of his transforming words. Here, we'll take a look at how the Torah sounded in its world and discover its radical new ideas, which sound remarkably like Christ! I would love to write about this in a book, and I'm looking forward to your input during that week!
This seminar is part of a long tradition of "Haverim Schools of Discipleship," study seminars established by the Center for Judaic-Christian Studies almost 25 years ago. (Haverim are "friends in study.") I went to my first week-long HSD over twenty years ago and I'm honored to be asked to lead one myself this year. Make sure to check out the other excellent resources they offer there.