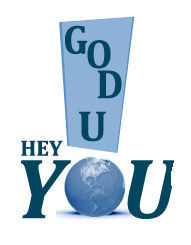 Calvary Chapel of Eastern Connecticut sponsors a program called "God University" that explores the Christian worldview. I will be one of three speakers at their Hey You! Conference on November 15 & 16, 2013.
The theme to be explored: God's Communication – what our eyes see of Him in the natural world, what the voice of conscience tells us of Him, what we know of Him through our fellowship with believers, how we encounter the Holy Spirit, and most obviously what His Word, the Bible, says to us in written language.
Here's the title and summary of my talk:
Hearing God Speak through Jesus' Jewish Context
When God decided to communicate with us in the flesh, he chose to enter our world as a first-century Jew. Why did he choose that place and time? What difference does it make for how we read the Bible today? Christ made some of his most potent claims to be the Messiah in a very Jewish way. We'll look at some of the many ways his words to us are clearer and richer when we hear them in their native context.
More information is at this link, including registration. The conference will be Friday, Nov 15, 5-9PM, and Saturday Nov. 16, 8:30AM – 5PM.
Calvary Chapel of Eastern Connecticut
126 Sharp HiIl Road,
Uncasville, CT 06382
Also speaking will be John Njoroge from Ravi Zacharias International Ministries and Charlie Campbell, from Always Be Ready Apologetics Ministry.