Jesus' Jewish Words and Wisdom
Teacher: Dr. Lois Tverberg; Evening presenter: Rebecca Mitchell
Sometimes you have to admit that Jesus' words are a puzzle. But, when you hear them in light of the first-century Jewish ideas he built on, they take on new clarity and meaning. During the week we'll discover Jesus' teaching style, how he used traditional Jewish methods to engage his audience. We'll listen to him weave stories with irony, humor and exaggeration, sprinkling them with imagery and examples from his Scriptures. We'll unpack some of his parables by hearing how other rabbinic teachers expounded on similar themes. By excavating the dust of the centuries, we'll see Jesus' wisdom in a whole new light.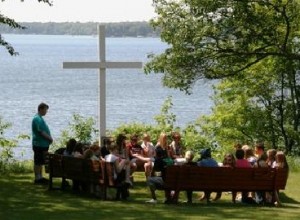 Once again this next summer, I'll be leading a week-long series at Mount Carmel Conference Center, near Alexandria, Minnesota. Mount Carmel is a Lutheran camp nestled in scenic Minnesota lake country.
I'll be speaking from 9:30-11 AM each day, Monday-Friday, June 24-29, 2012. The evening presenter, Rebecca Mitchell, is a talented biblical storyteller, and I'm greatly looking forward to her presentations too.
If you're interested in coming, see the Mount Carmel website for more information.
Hope you can join us!