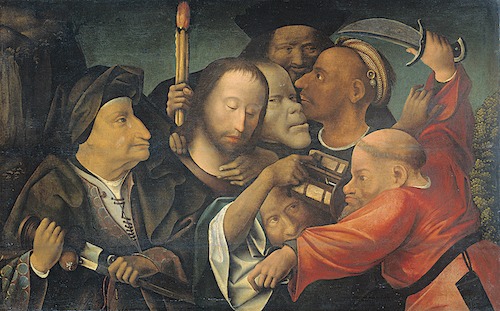 Dear Pastors (and other friends), could this be the year that we don't repeat an ugly error?
The crowds that shouted "Crucify" at Jesus' trial were not the same ones that cheered with shouts of "Hosanna" on Palm Sunday. This story has resulted in egregious antisemitism over the centuries, but it can be corrected simply by a closer reading of the Gospels.
Robbed of Joy
As a kid growing up in the Lutheran church, I looked forward to the one day I could be free of Lutheran stuffiness and wave a palm branch above my head like a Spirit-filled Pentecostal. I still recall my crushing disappointment that Sunday when I arrived too late to join the children's procession, so that I had to sit with the boring adults.
I had another unhappy Palm Sunday when I was graduate school, because in the 1980's many Lutheran churches changed their liturgy to make Palm Sunday into Passion Sunday. Immediately after "All Glory Laud and Honor,"* we'd page our Bibles forward to Jesus' betrayal and arrest. The rest of the service was somber and solemn as we were transported straight into the darkest hours of Christ's Passion. Once again I was robbed of joy.
It sounds like the reason for the change was to make sure lazy church goers didn't miss hearing about the suffering of Christ before Easter. Attendance had waned at Holy Week services so these texts were moved to the Sunday before it.
The result of changing Palm Sunday to Passion Sunday was to accentuate the utter fickleness of the crowds, contrasting Jesus' victorious entry with his shocking betrayal and arrest. No wonder why this sermon is still so common today.
Let's Read the Gospels a Little Closer
In Sitting at the Feet of Rabbi Jesus, I wrote about an insight I had one year that shed light on the issue of fickleness. I had celebrated Maundy Thursday at my church with a simple Passover re-enactment meal, and then almost fell asleep during the mournful, dark Tenebrae service afterward. This led to several realizations:
"Suddenly, I understood why the disciples found it so hard to stay awake. They had an even better excuse than I had. Traditional Passover celebrations involved a huge meal plus four cups of wine, and they started at sunset and didn't end until around midnight. What's more, they took place after several days of exhausting travel and preparation. Certainly everybody in Jerusalem would have wanted to crawl straight into bed after their late-night feast. Aware of this perennial problem, the rabbis ruled that a person who dozed lightly could remain a part of the dinner, but anyone who fell sound asleep could not.

"Our amateurish attempt at reliving the Last Supper has led to other insights on the final hours of Jesus' life. I realized, for instance, why the leaders plotted to arrest Jesus after the Passover meal. A man so wildly popular couldn't have been arrested in broad daylight. To avoid an uprising, the priests had to proceed in secret. So they let Judas lead them to Jesus while he was outside the city. Passover evening was the perfect choice because every Jewish family would be celebrating the feast that started at sundown.

Jesus' arrest and trial proceeded swiftly, occurring during the wee hours, when most of his supporters were in bed. Peter's denials happened as the rooster crowed, around four or five in the morning. According to Mark's gospel, Jesus' final sentence was handed down at sunrise (Mark 15:1).

One has to ask, what group of people were around at the crack of dawn on a major Jewish holiday to shout 'Crucify him'? Mostly corrupt priests and Roman soldiers who wanted to kill Jesus.

But there's more. Jesus was being led out to be crucified at nine in the morning—the time of the first temple service of the day! The authorities knew they had to finish their secret trial before the crowds reentered the city to come to worship. And indeed, as Jesus was carrying his cross out of town, his supporters reappear, weeping out loud as they see him being led to his death (Luke 23:27). His followers had just learned of the events that had transpired the night before.

"Prior to our Passover Seder, I had always thought the crowds unimaginably fickle, cheering Jesus one day and then shouting for his head the next. But Jesus' supporters never changed their minds. How could they have when they were not even present at his arrest or trial? The entire plot unfolded after the Passover festivities, while most people were sound asleep."
Many have read this chapter before and I've posted about it too, often enough that I think it's old news. Then I bump into yet another sermon that is blissfully unaware. This year I'm giving you all a link to download the chapter that I wrote about it, so that you can share with people who should know.  (The pdf also includes a Seder liturgy if you'd like try celebrating Passover.)
~~~~~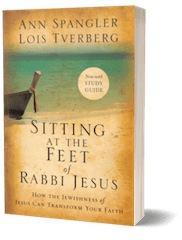 From the chapter "A Passover Discovery" from Sitting at the Feet of Rabbi Jesus (Grand Rapids, MI: Zondervan 2018), p 108-119. Sitting is available for $19.99 $12.99 in the ORJ bookstore if you'd like to share the book for a Holy Week gift.
[Image: "The Arrest of Christ" by Hieronymus Bosch, 1530-1550. Note the exaggerated "Jewish" features of the crowd's faces (but not of Christ).]
*All Glory Laud and Honor has been sung on Palm Sunday since the fifth century AD! Last year I sung it in Uganda when I was visiting there on Palm Sunday. If you want to know more about why I went, see this blog.