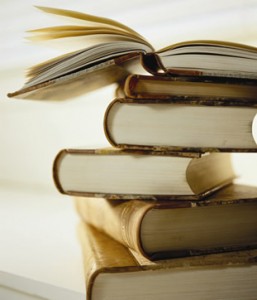 Many ask me what the first books I'd recommend are to read if you want to learn about the Bible in its Hebraic context. Below I've shared a short list of where to start.
One thing I always tell people is that before they start studying, they need to have a firm grasp of the biblical text and core Christian beliefs. There are many teachers out there who aren't terribly balanced, especially on the internet. And the whole idea is to learn about Judaism, which by definition does not embrace Christ. It's important to have some basic biblical and doctrinal background before you start, so that you can exercise discernment.
What I often see is that people who are disgruntled with their church will embrace every new thing they read. But often they start with an immature knowledge of Christianity, because they didn't get much training in their faith growing up.
All that said, I'd highly recommend the following books and DVDs to begin the journey. Links are to Amazon pages if not on this site already.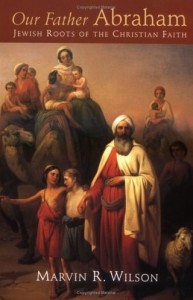 1. Our Father Abraham: The Jewish Roots of the Christian Faith by Marvin Wilson. (Eerdmans, 1989.)
This is a must-read introduction to this topic. Some of the early chapters are a little scholarly though, even though the information is excellent. Later on the book has some more practical insights. If you've started it and gotten slowed down, skip ahead to chapter 11, "Marriage and the Family Through Hebrew Eyes." And don't miss chapter 14, "A Life of Learning," on the Jewish love of study. Then go back and read the rest of it.
~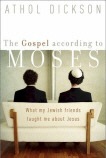 2. The Gospel According to Moses:What My Jewish Friends Taught Me About Jesus by Athol Dickson.(Baker, 2003.)
This is another favorite first-read. Dickson is a conservative evangelical Christian, and he shares from his (sometimes awkward) experience of joining a Torah study at a Reform synagogue. Soon he finds insights that deepen his Bible reading and faith in Christ. Dickson is a novelist by trade, and a very warm, readable writer. My favorite chapter was "Yes And Yes," on Hebraic thought.
~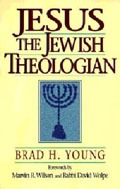 3. Jesus the Jewish Theologian by Brad Young (Hendrickson, 1995.)
This is an excellent study of Jesus' life and teachings in their Jewish context. Young is particularly good with the parables, having written his Ph.D. on the rabbinic parallels to Jesus' words.
One idea: Use Jesus the Jewish Theologian as the background text for a weekly Bible study of the gospel accounts of Jesus' life. I've done this more than once, and the discussion was very rich.
~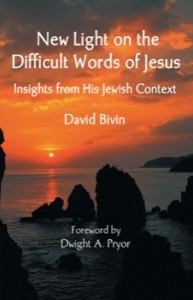 4. New Light on the Difficult Words of Jesus: Insights from His Jewish Context by David Bivin (En-Gedi, 2005.)
Bivin shares many insights on Jesus' first-century life and teachings. He looks at Jesus within the world he lived – how Jesus dressed and was educated, and how he taught as a rabbi and raised disciples. Then he addresses topics in Jesus' ministry, like marriage, divorce, pacifism, poverty, the Law and the kingdom of God, and fits his words into the larger rabbinic conversation. (See this page for more details.)
~
My other two first recommendations are DVD series which include guides for group study: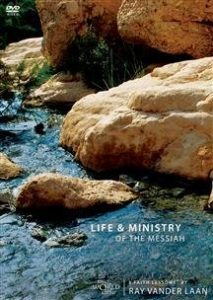 5. The Faith Lessons Series, by Ray Vander Laan (Zondervan, 1998-2008.)
There are 12 DVD studies of the land and culture of the Bible. Many people have loved this curriculum, which takes viewers to Israel, Greece, Turkey and Egypt to highlight Jesus and the Bible stories in their Eastern, Jewish context. If you haven't seen them, you should.
~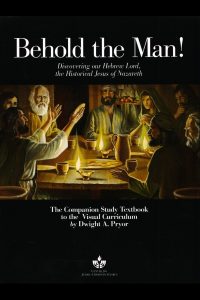 6. Behold the Man – a DVD teaching series by Dwight Pryor (Center for Judaic Christian Studies, 2008 – not on Amazon.)
Behold the Man is a twelve-session introductory study on the significance of Jesus' Jewishness for Christians today. Another excellent way to discover our Hebrew Lord, the historical Jesus of Nazareth.
~
Obviously, if someone is looking for a place to begin I also recommend the three books I've written, because their intended audience is the Christian lay person who wants to encounter the Bible in its original setting. In a nutshell my books are:
Walking in the Dust of Rabbi Jesus (Zondervan, 2012), about Jesus' words and teachings in their Jewish context.
Sitting at the Feet of Rabbi Jesus (Zondervan, 2009), about the traditions and culture of first-century Judaism that shaped Jesus' world.
Listening to the Language of the Bible (En-Gedi, 2004), a devotional guide to Hebraic ideas in the Bible.
(For more on these titles, see the OurRabbiJesus Books page.)