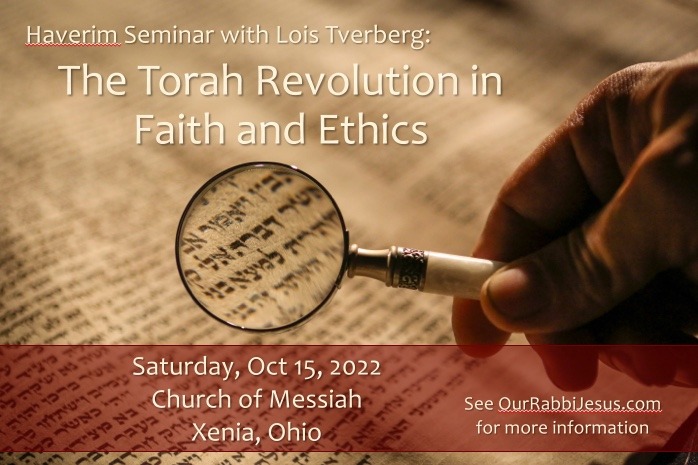 I'll be teaching a brand new Haverim Seminar as part of the Sukkot celebration of the Church of Messiah in Xenia, Ohio (near Dayton) on October 15, 2022. It will be at the
Liberty Worship Center
1180 Upper Bellbrook Rd,
Xenia, OH 45385
I'll be giving three talks on Saturday morning from 9 AM to 1 PM, and then speaking again at the Sukkot (Feast of Tabernacles) celebration at 7 PM in the evening. Registration is required but free. Use the EventBrite link on the Church of Messiah page to register.
Here is the overview of my seminar:
The Torah Revolution in Faith and Ethics
You might be surprised that the Torah is actually the bedrock of some of our most basic beliefs about theology, sin, forgiveness, justice and ethics. Yet for many Christians, there is a Torah-shaped hole in our understanding. How does the Torah fit into God's overall plan of salvation?
Letting the Torah Tell its own Story

When read in light of its original context, you can see God's plan to redeem and bless the world. He would teach Israel how to practice mishpat (justice) and tzedakah (righteousness).
Surprising Ideas in the Torah
How did the Torah differ from anything found in the ancient world? What did it say about humans as the image of God and the relationship of men and women?
The Torah's Promises of Redemption
If you read the Torah through the eyes of Israel's Prophets, you'll be amazed at what it says about Christ and the Kingdom of God.
     (Sukkot Feast)  The Torah for the Nations
What can the Torah teach the goyim, the Gentile nations of the world?

The Haverim Seminar will be recorded and available from the Center for Judaic-Christian Studies. I highly recommend all of the material from the Center! Founded by Dwight Pryor over 30 years ago, the Center is the source of many brilliant seminars on the Bible in its Hebraic Context. Decades ago they began to hold extended study events, which were called Haverim Seminars. (Haverim are "friends in study," partners in grappling together with the Scriptures.) I'm honored to be invited to be part of this tradition.
I should say… the Feast of Tabernacles at Church of Messiah is also truly worth a trip. Glorious worship services on Friday and Saturday evenings bookend a weekend of learning and fellowship. They will have workshops by others on Saturday afternoon. Years ago I used to take the 6+ hour drive every year just to be an audience member. Hope you can join me!