If you're near the East coast, I'll be leading a retreat for Women of the Word called "At His Feet" from Sunday, April 24 until Tuesday, April 26, 2016. We'll be meeting in southern Connecticut at the lovely Mercy by the Sea conference center.
We'll be right on the Atlantic Ocean, across the sound from Long Island. Even as I write, frigid wind chills and snow drifts are enveloping my home in Michigan. In my wintry reality, a beach-side getaway sounds like a dream come true!
.
Visit the WOW website for more information…
.
At His Feet
Like Martha we have many distracting "jobs" that can tear us away from time with Him. Be refreshed, revived and renewed in your relationship with Jesus meeting with Him in a beautiful setting by the sea.
What can we learn from Jesus' first-century world that will make His words even more powerful and life-changing in ours now? We'll look at the scriptures from within the culture in which they were written — a VERY different perspective than our Western mindset. Our time together will include:
Learning from the scriptures from a "fresh" perspective,
Worship
Prayer ministry
Application activities
Fellowship and free time
Registration price includes: 2 nights accommodations (each room has its own bathroom), 6 meals (beginning with dinner on Sunday, ending with lunch on Tuesday), taxes, and gratuities. The retreat will officially end with lunch on Tuesday, but you are welcome to stay on the beautiful grounds and retreat house until 5 pm if you wish.
Go to the WOW website for information and registration. (Save by registering by February 1.)
Please join us and bring your friends!
.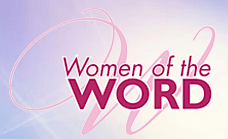 Women of the Word is a non-profit organization focused on teaching women biblical principles and their application in daily life. WOW serves women of all denominations, cultures and ages. Women are encouraged to live fully for God, exemplifying Christ's crucified life.
.