Chalk this one up as a sign of the uniqueness of western Michigan.
Hebrew tattoos.
When I moved to Holland in 1995, I was immediately struck by the unique cultural climate in this area. Where else do you find restaurants with Bible verses painted in Dutch on the walls and Today in the Word devotionals in the tourist racks?
This area is very religious, but well educated. A hundred plus years ago some intelligent, devout Dutch immigrants settled here, and out of this fertile soil grew not just church upon church, but many Christian publishers like Zondervan, Eerdmans, Kregel, and Baker. I've enjoyed living in this cultural climate for this very reason, even though as a Norwegian I've had to stretch to fit in among my Dutch friends.
But this was a new one on me. A college-aged neighbor asked me how to spell the word "Hineni" so that he could tattoo it on his shoulder blade! "Hineni" means 'here I am" or "at your service," displaying a readiness to be obedient. It's how Samuel responded when God called to him when he was a boy.
My friend is on the Hope College swim team, and the swimmers were all getting a small tattoo (or "tat," as he called it) that would be only visible to fellow swimmers. He wanted one that expressed his faith, but in a less conventional way. I never realized my years of Hebrew study would serve this need.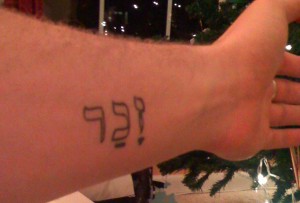 Then, a few weeks later I was in JP's coffee shop and the barista pulled up his sleeve to reveal the Hebrew word "Zakhar" tattooed on his forearm! He even paid me the compliment that he had gotten the word out of my book, Listening to the Language of the Bible. Zakhar means "remember." He explained that he inscribed it on his arm for two reasons — to remember his commitment to Christ, and as a memorial to his older brother who had died a few years earlier. He saw it as kind of a permanent tefillin (phylactery) that would always remind him of what he held dear.
Don't get me wrong — I'm the last person to advocate getting a tattoo. Leviticus 19:28 expressly forbids it. (Although one of my tattooed friends explained to me that as he understood it, this law only prohibited tattooing oneself for the dead.)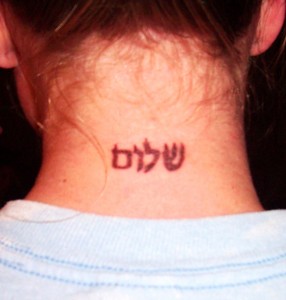 It strikes me as amusing and typical of the personality of western Michigan that young Christians here like to combine ancient biblical words with edgy forms of self expression. Both of these guys are quite intelligent, intentional Christians who see their body art as a way to express their commitment. Fascinating.
So, if you want a tattoo, Hebrew is totally cool in our area. If you don't believe me, here's yet another tattoo that says "Shalom." This one is on a female swimmer, a friend of Mr. Hineni. I haven't heard the story behind it yet.