Not long ago I got a lovely note from a reader with a question I had never been asked before.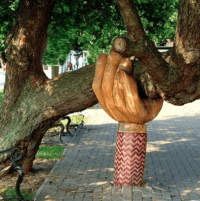 "Lois, I want to support your writing ministry. How best can I do that? Could I order your books in Christian book stores or should I go to your website, or to Amazon? How can I pray for you?"
I have to say, I was very touched. Most people assume that writing is a glamorous, easy job with big paychecks and an exciting social life. The reality is that it's mostly a solitary existence in my basement office, grappling with ideas and digging up references. And writing is not a great source of income, unless you're a very big name.
For many, writing is a sidelight profession, but for me, writing is actually the only thing, in part because I have an autoimmune illness that limits my energy in a day. My income comes from book royalties, selling books through this website and from speaking occasionally. Funds haven't been a big concern in the past because I live modestly and don't have a family to support. But, after years of not asking, I'm finally making a button if you would like to make a (non-deductible) donation toward supporting my writing.
(The donate button is for a credit card. If you'd rather send a check, make it out to En-Gedi Resource Center, note "Writing fund" and send it to En-Gedi Resource Center, PO Box 1971, Holland, MI 49422-1971)
What are some of the places where funds would go? One, to help pay an assistant in my office a few hours a week, so that I can actually write and interact with readers. Also, for a long list of books I'd like to buy for research.
If you have a tight check book, don't worry about it. Your prayers are far more precious than your finances. Could you pray for the following for my writing?
For clear thinking
To be sensitive to what people need to learn about
For how to approach and avoid destructive controversies
For enriching people's faith, yet teach discernment
For what should be in current and future books
For balancing my writing life with time with family and friends
I can't tell you how much I appreciate your prayers – they really help.
You know, one simple way to help out is to order my books from my bookstore page rather than Amazon if you need copies of my books. (It's cheaper and just as fast.)
You also see links to other books at Amazon on my website. This is so that you can quickly look up more about them. If you decide to buy it at the link, Amazon pays a few cents too.
Of course you're always welcome to use my new button to make a donation of whatever amount you choose.
Thanks for your very kind concern! I appreciate it a lot.
Warmest blessings –
Lois