If you live in Louisiana or Mississippi, I hope you'll be able to come join me February 17-19, 2020. I've extended my earlier plans to speak in McComb, MS with an invitation to speak in Baton Rouge. Read below for the details for both venues. (Updated as I have details myself.)
Back in 2009 I spent a weekend speaking at First Presbyterian in Baton Rouge. I will be spending another evening there speaking on my most recent book this February:
Reading the Bible with Rabbi Jesus
Monday, February 17th, 2020, 6:30 – 8 PM
Location:
763 North Blvd.
Baton Rouge, LA 70802
If you live nearby, you're welcome to attend! Contact Dee Alberty, preceptbr@gmail.com with questions.
~~~
February 18-19th, 2020
Breaking Bread with Rabbi Jesus
A group at First Baptist Church McComb has been reading through my book Sitting at the Feet of Rabbi Jesus this fall. This February, I will be presenting at their winter event, Breaking Bread with Rabbi Jesus.
I will be speaking at an evening dinner for women on Tuesday, February 18th. On Wednesday morning I'll be leading sessions from 9AM to noon that are open to all, both men and women. I'll be talking about my latest book, Reading the Bible with Rabbi Jesus. See the details in the announcement below. If you are in the area, I invite you to join us!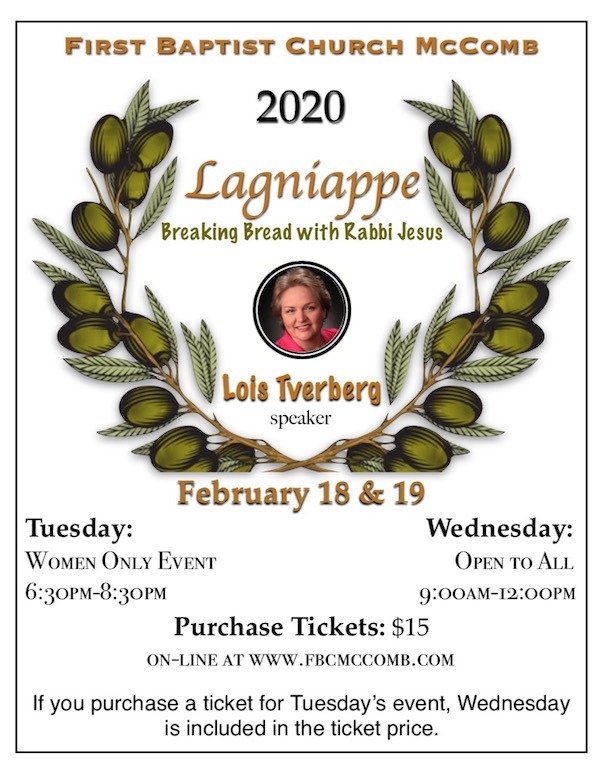 Location:
First Baptist Church McComb
Fellowship Hall
1700 Delaware Ave
McComb, Mississippi 39648
Contact GALS@FBCMcomb.com for questions. Register at this link.
Hope to see you there!