Once again this year I'll be attending the academic Bible conferences are held on the weekend before Thanksgiving each year, this year in Denver. These include ETS (Evangelical Theological Society), IBR (Institute of Biblical Research) and SBL (Society for Biblical Literature). If you are coming, I hope to see you there!
This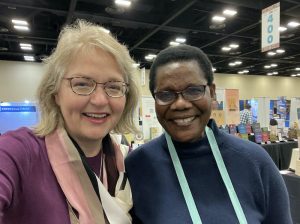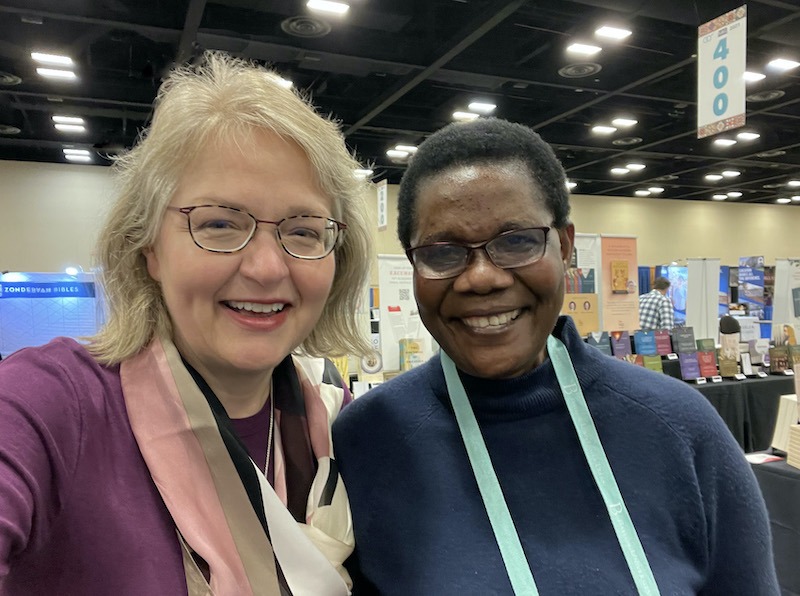 year I'll be coming with my good friend Rev. Dr. Milly Maturu Erema. She has a Ph.D. in Old Testament and was invited to speak as part of the Institute of Biblical Research meeting, in the session on "Difficult Texts in the Old Testament."
They are discussing the strange scene in Exodus 4:24-26 where God seems to come after Moses to kill him when Zipporah steps forward to circumcise their son, which alleviates the danger. What is going on here?
Three panelists will discuss the text from a different approach. Milly will share the research that she has done on how circumcision is understood by Eastern African cultures who have practiced it for centuries, like many ancient peoples did in the Middle East.
She interviewed several knowledgeable people from various tribes to do her research – it should be fascinating!  Here's the official description of the session if you want to join us on Friday, 11/18/22.
Difficult Texts in the Old Testament: A Workshop Approach
3:30 PM to 5:30 PM
11/18/2022
Plaza Court 1 (Plaza Tower – Concourse Level) _ Sheraton Downtown (SD)

Each year this group will examine a difficult passage in the Old Testament from multiple angles. This year we will examine Exodus 4:24–26. The session will be divided into two parts with Part I addressing exegesis and social and contextual analysis and Part II addressing intertextuality and biblical theology, along with ethics and teaching. Each part will begin with two brief (5-min) invited presentations to get the conversation started, but the bulk of the time will consist of a more collaborative and audience-driven discussion.To facilitate a rich and stimulating dialogue, we strongly encourage attendees to examine the passage ahead of time with some or all of the following questions in mind (a handout with the biblical text and questions will be provided).
Brittany Kim, Northeastern Seminary at Roberts Weslyan College, Presiding
Introduction (5 min)
Part I
Traci L. Birge, Azusa Pacific Univeristy – Exegesis (5 min)
Does YHWH seek to put Moses or his son to death (v. 24)?
To whose feet does Zipporah touch the foreskin? And what is the significance of that act in its ancient context?
What does Zipporah mean when she says, "Truly you are a bridegroom of blood to me" (NRSV)?
How does this text fit into its narrative context? And in particular, how does it relate to the immediately prior command that God gave Moses to tell Pharaoh, "Israel is my firstborn son, and I told you, 'Let my son go, so he may worship me.' But you refused to let him go; so I will kill you firstborn son" (vv. 22–23).
Milly Maturu Erema, Uganda Christian University – Social and Contextual Analysis (5 min)
How might blood rituals performed by modern groups, like the circumcision rite of the Bagisu people in Uganda, illuminate Zipporah's act of touching the foreskin to the feet?
What is the relationship between shedding of circumcision blood and healing among the Ugandans and the circumcision of Moses's son in Exodus 4:24-26?
What hermeneutical guidelines are critical to a legitimate contextual and cultural interpretation of the circumcision of this passage?
Group Discussion (45 min)
Break (5 min)
Part II
Kevin Burrell, Burman University – Intertextuality and Biblical Theology (5 min)
David T. Lamb, Missio Seminary – Ethics and Teaching (5 min)
How do we respond to the ethical challenge presented by texts that seem to portray God as fickle?
How can we teach texts for which there seem to be so few clear answers?
What are some possible applications of this passage?
Group Discussion (45 min)