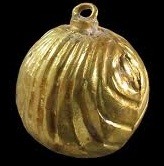 I got a kick out of a recent archaeological finding in Jerusalem – a golden bell that was likely sown on the hem of a high official's garment.
Remember how God stipulated that the high priest's robe was to have bells and pomegranates hanging from it (Exodus 28:34)? Well, they found a golden bell that likely fell off of his or some other important official's garment in the first century.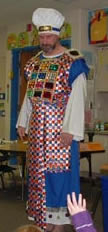 This is of special interest to me personally, because several years ago, I was taking care of a high priest costume that had been ordered online. It arrived with little jingle bells hanging from the hem. I thought they looked odd – they reminded me of sleighs and reindeer. So I took them all off and sewed on little square cowbells that I bought at a craft store. Now we find out that the round bells weren't so far off! (That's Bruce Okkema, a.k.a. "Mr. High Priest" to school kids we visited.)
You can even listen to the sound of the bell – an audio file is online. If you imagine that sound multiplied a few dozen times, you can hear the sound of the high priest walking in the Temple.