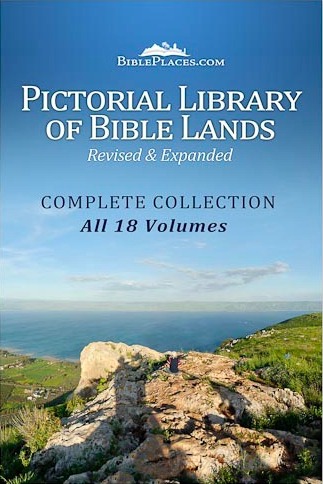 If you give talks on biblical subjects and use Powerpoint images like I do, you'll be happy to hear this news.
Todd Bolen recently issued a major update of the Pictorial Library of the Bible Lands, which includes images and maps from Israel, Egypt, Greece and other biblical lands, as well as Jewish culture and everyday life in Bible times.
This photographic collection was already outstanding, and now it's expanded from 10 volumes (6000 images) to 18 volumes (almost 18,000 images.)
If you want to see a sample, Bibleplaces.com has many images available there. Check out the free 8-meg download of Powerpoint of Galilee images. You can also download a sample Powerpoint on Jesus' early ministry for a sermon on Matthew 3-4.
If you already own the previous collection, you can order the 18-volume set as an upgrade for $179. For new buyers, it is $389. If you're on a budget, you can also buy the image CD's singly or in smaller collections. (See BiblePlaces.com catalog page for info and ordering.)
I got to know Todd Bolen about ten years ago when I was in Israel one summer. He was teaching Bible for The Master's College after having studied in the Land for several years. He told me that he was frustrated at the photo collections that were available for his class presentations. The few out there were small and low-resolution, and came with strict copyrights. So he decided to create a library of his own photography, and give users unlimited rights for teaching and other non-commercial purposes.
Todd's top-quality professional images have now become widely recognized. Zondervan and other publishers have used them in several books, including the Archaeological Study Bible and the Illustrated Bible Backgrounds Commentary.
Hmm, this would be quite a nice graduation or Father's Day gift…