For those of you who have followed me for awhile, you know that I write mostly about Jesus in his Jewish context. What if we took a closer at the Torah in its context?  In this five-day webinar from the Center for Judaic-Studies, October 5-9, I'll be taking a deep dive into the Torah and we'll be uncovering some very surprising things.
We'll discover laws that were radical in their time, yet foundational to civilization today. And we'll look at promises in the Pentateuch that undergird the rest of biblical story, including the mission of Christ. Throughout the week, I'll be sharing new tools for you to use in Bible study too.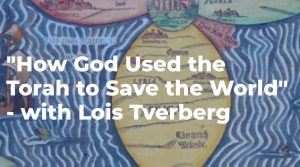 Each day, you'll watch my prerecorded lecture at your leisure. Afterward, we'll gather to discuss it with our host, James Whitman and your fellow students at either 12:00PM EST or 8:00PM EST. The cost of the webinar is $200, or $150 before October 1st.  You can register here.
Check out this video invitation that I made. (It was my first attempt at video casting. 🙂 )  I hope to see you there!