Many of you will remember last fall that I wrote a post called "Reading the Bible Through Ancient Eyes." It was about hosting an Old Testament scholar from Uganda, Rev. Dr. Milly Erema, in my home and taking her to the Society of Biblical Literature meeting, where she impressed the scholars at an Old Testament session so much they invited her to speak at SBL this next year. She's a walking Bible encyclopedia because her traditional Eastern African world still retains many of the realities of the biblical world, including even polygamy and levirate marriage.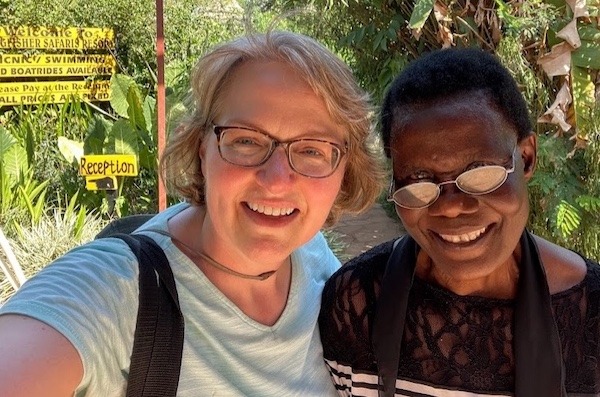 I've learned an enormous amount about the cultural ideas in the Bible from her and wrote one article last fall, called Was the Law of the Rebellious Son Actually Progressive?"
I've just posted a brand new article, Learning to Read the Bible with Ancient Eyes: Rain and Sacrifice. Among other things I ask the question, is our problem with Leviticus actually because of what is in our refrigerators? I wrote this after having gone to Uganda to actually stay with Milly and see her world for myself. I know this relationship will greatly enrich my writing.
My Adventure in Uganda
This past April I decided to visit Milly in Uganda, which was quite an adventure. Uganda is a literal paradise where the weather is always between 65-85 F (18-30 C), all year round. Because of its beauty, it is called the "Pearl of Africa" and it is lush and gorgeous and fascinating.
Why did I go? Partly for the sake of research for writing, and partly to learn more about Milly's ministry at Kingsway Christian High School, which provides orphans and vulnerable youth with an education they could not get otherwise.
Northern Uganda is one of the most devastated places on the planet because of the cruel wars of Idi Amin and later the Lord's Resistance Army. Milly grew up right in the middle of it and saw shocking violence herself. Four of her own brothers were murdered and she became obligated to raise and educate their orphaned children.
Milly and her family built Kingsway at first for her own family's orphans, and now the school redeems the lives of other youth who have no hope of anything but grinding poverty. For free, they are given a Christ-focused education which enables them to get good jobs, with the hope they will become community members and leaders who will mend their devastated country.
Personally I feel her ministry is extremely worthy of support – so much so that I traveled around the world to see it and take pictures, and took a few months away from my own writing ministry to make a website for Kingsway. I just finished the site!
Check it out: KingswayUganda.com.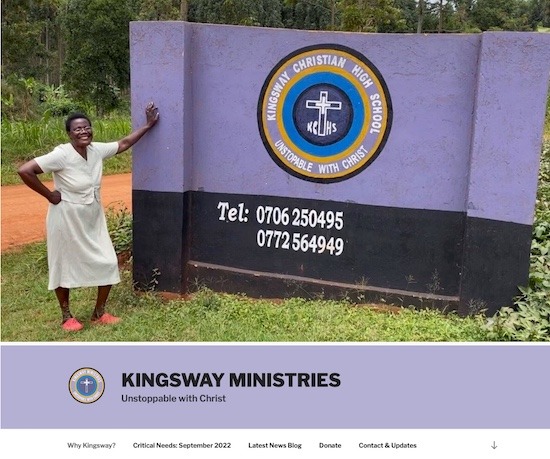 I'm writing the posts on the website's blog, including even some about what I'm learning about the Bible in its world. Like this post, "What Meals are Like at Kingsway," for instance. If you like my writing, sign up to get Kingsway's emails to stay in touch.

Milly has run Kingsway for years with almost no outside support, spending her own meager $4000/year salary as a college professor to keep it going. But it seems that now is the time to seek help from others. Around the world Christians want to help the poor, and she's the one who has access to the very poorest of the poor.
Also, this is a critical time for Kingsway because costs of everything have risen sharply with COVID, inflation and drought. On top of this, the government is threatening to shut them down if they don't get a building project completed by the end of the year.
Please seriously consider supporting this very worthy ministry. I personally guarantee you that your money will be spent very carefully and go directly to helping the poorest people on earth.