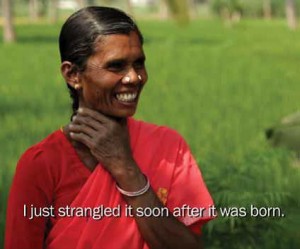 The woman in this picture is explaining how she ended her newborn daughter's life.
Believe it or not, she's actually done this to eight of her children, all girls. In her village in India, it is common practice.
You can read more of her tragic story on this blog, "The Three Deadliest Words in the World: It's a Girl."
As shocking as this is, infanticide has been practiced in many cultures around the world and throughout history. The low-tech way to end an unwanted pregnancy is not abortion, but by smothering or strangling an infant as soon as it is born. (And much of the time, the reason is because the baby is a girl.)
This was true in ancient Greek and Roman culture in the New Testament era too. But the practice of infanticide was roundly condemned in Jewish and Christian culture as murder. You can find many ancient sermons against it by both Jews and Christians.
But what about the New Testament? Do we find anything there about infanticide?
Scholar David Instone-Brewer says so, and in a very prominent place, actually. He believes that in Acts 15, when the early church lays down the four minimal laws for Gentiles, this was what "strangled" (pniktos, or smothered) actually means.
In verse 20, the apostles ruled that the Gentiles must abstain from "things contaminated by idols and from fornication and from what is strangled and from blood." This is commonly read as referring to four aspects of pagan worship that would be obnoxious to Jews, with last two referring to eating meat from animals from which the blood has not been drained. Not all scholars find this convincing, because it seems odd to single out one food prohibition for two laws.
Scholars who study the Jewish context have what I think is a much better answer. They point out that the three most reprehensible sins in rabbinic thought were idolatry, sexual immorality, and murder. Even today, any law in the Torah can be violated in order to save human life, except for these three prohibitions. These three sins were also assumed by Jews to be common practice among pagans. The phrase "shedding of blood" (shefichut damim), or just "blood," was shorthand for murder. So the Acts 15 laws prohibited Gentile converts from idol worship, sexual immorality and bloodshed, three fundamental moral laws that applied to all humanity. (1)
I've always found this explanation of the early church's ruling more satisfying, but one question has remained. Why was "pniktos" (smothered) on the list? If it refers to infanticide by smothering, it would make complete sense to me. This kind of "birth control" was a practice that was common among Gentiles that was abhorrent to Jews. It makes sense that they would single out infanticide for special attention, so that Gentiles would realize that it is a kind of murder too.
You can read Instone-Brewer's research paper at this link: "Infanticide and the Apostolic Decree of Acts 15" (Journal of the Evangelical Theological Society 52/2 (June 2009) 301–21). He also gave a sermon "Teaching against Abortion in the Earliest Church" which is aimed more for the layperson. As a pastor as well as a scholar, his preaching often shares from his research on biblical culture. See his sermon archive for more interesting insights. (2)
~~~~
(1) You can also read more about the Act 15 prohibitions for Gentiles in the Jerusalem Perspective article, "The Apostolic Decree and the Noahide Commandments" by David Flusser and Shmuel Safrai. See also the chapter, "Requirements for Gentiles" in New Light on  the Difficult Words of Jesus (p 141-144.) by David Bivin.
(2) Instone-Brewer has also written some excellent books, including a scholarly series called Traditions of the Rabbis from the New Testament Era, and lay-level book called Divorce and Remarriage in the Bible. In this second book, he gives some pastoral insights on how Jesus' words about divorce might be understood in light of wider rabbinic thought.