Those of you who have been following my blog have read that in the past few years I've been working with a brilliant Old Testament scholar, Rev. Dr. Milly Maturu Erema, a Ugandan professor with fascinating cultural insights on the biblical world that come from her East African background that resembles the Ancient Near East in many ways. I've written several articles with insights from her – see the end of this article.*
I got to know Milly because she attended the seminary in my town, Western Theological Seminary. Amazingly, the seminary chose her to be their Distinguished Alumn of 2023! They have also invited her to come as a visiting professor at the seminary this fall. She will receive this award then.
Western Seminary just posted the news about her award in their summer magazine. The text of their article is below. (They asked me to write it.)
Distinguished Alumni 2023
Rev. Dr. Milly Maturu Erema '01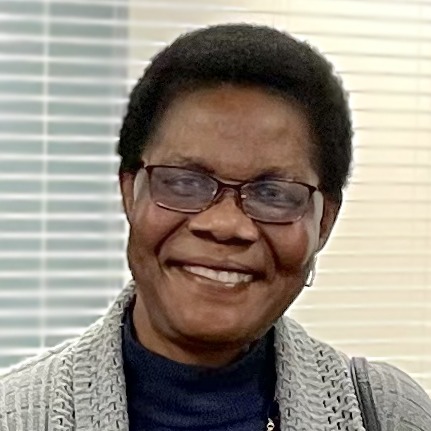 Rev. Dr. Milly Maturu Erema '01 was one of the first students from Uganda to study at Western Theological Seminary. After she received her Th.M. from WTS in 2001, she was ordained as an Anglican priest. With her husband Sam Erema, who is also a priest, she co-led St. Paul's Anglican Church in Okuvu, Uganda, for several years. She then earned a Ph.D. in 2018 through Asbury Seminary and became one of two women in Uganda to be ordained and to hold a Ph.D.
For almost twenty years, Dr. Erema has been a lecturer and professor at Uganda Christian University, teaching Hebrew, Greek, Church History, Theology, Youth Ministry, and numerous classes on the Old and New Testaments. She has had an enormous influence on Uganda's future pastors by lecturing and overseeing their graduate work. She guides and grades their thesis research and evaluates their pastoral skills in their field placements.
Dr. Erema has also been active in addressing women's issues. She has spoken at clergy conferences on the struggles of women in ministry in Uganda. In 2023, she will publish her first book, Tears on the Altar: The Challenge of Clergywomen's Ministry in Biblical Perspective, which discusses the many biblical texts that support women in ministry.
Overcoming Adversity
Dr. Erema's career has been marked by significant barriers and challenges. In her early years, Dr. Erema's home in northern Uganda was devastated by two horrific wars that ravaged her family. As a teenager, she lived as a war refugee for almost two years.
During Idi Amin's reign in the late 1970s, she was just thirteen when her father died, and her mother suddenly needed to raise nine children on her own. Soon afterward, they lost their home, forcing them to travel on foot to Sudan, where many succumbed to disease and death.
Dr. Erema's parents had been teachers, and she was always at the top of her class. Rebels forced schools to close when she was only in eighth grade, so she spent years away from school. While raising her six children and working to support her family, she studied independently to finish high school and pass the national exams.
Educational Journey at WTS
During her time at WTS, Dr. Erema studied in the Th.M. program under the supervision of Dr. Tom Boogaart, Professor Emeritus of Old Testament. Dr. Boogaart recalled his amazement at Dr. Erema's intimate understanding of the ancient world when she took his Old Testament course, attributing her connection to her heritage as one of the Lugbara people, who, until 50 years ago, lived much as Ancient Near Eastern peoples did.
"Sometimes, you encounter a person and a life so astonishing that you are moved to a deep respect and appreciation for the individual as well as a deep gratitude and praise to our faithful God. Dr. Erema is one such individual. WTS is privileged to have been a part of her educational journey. We are so pleased to honor her as the Distinguished Alumni of the Year."

– DR. FELIX THEONUGRAHA PRESIDENT
Western Theological Seminary

Kingsway Christian High School
When Dr. Erema arrived in Michigan in 2000, another war had broken out in northern Uganda. Her mother and brothers' families were sent to an internal settlement camp for their safety. She was studying at WTS when she learned that rebels had overwhelmed the camp's guards and killed many inhabitants, including four of her brothers. This meant that she would be responsible for educating her brothers' 22 orphaned children.
Because of the need to educate her nieces and nephews, the Eremas established Kingsway Christian High School in 2008 with the help of several churches in Holland, Michigan. Additionally, the money that Dr. Erema saved from doing work-study at WTS paid for the land where Kingsway was built!
Since 2008, the school has rescued hundreds of other youth who endured the horrors of war. Kingsway has paved the way for many young people to get a strong, faith-based education and find employment. It continues to redeem lives today.

From Tragedy to Blessing
Dr. Erema has also helped heal northern Uganda by working with a charitable organization to bring Ugandan doctors to host temporary medical camps in her area. After all the wars, no medical facilities remained in her hometown. In response, she and other pastors ministered to the crowds and shared Christ's love. The grateful townspeople gave her land to establish a permanent medical clinic there, a project she continues to oversee.
Over the years, Dr. Erema's unstoppable faith in Christ has turned her family's tragedies into blessings for thousands of northern Ugandans. Western Theological Seminary is delighted to be able to honor her through this award.
To learn more about Dr. Erema's work at Kingsway Christian High School, visit KingswayUganda.com.
~~~~~
* The following articles of mine are based on discussions with Dr. Erema:
Levirate Marriage from an African Perspective
Learning to Read my Bible through Ancient Eyes – Rain and Sacrifice
Was the Law of the Rebellious Son Actually Progressive?
What Meals are Like at Kingsway (This article is on the Kingsway site but it actually has cultural biblical insights in it too.)