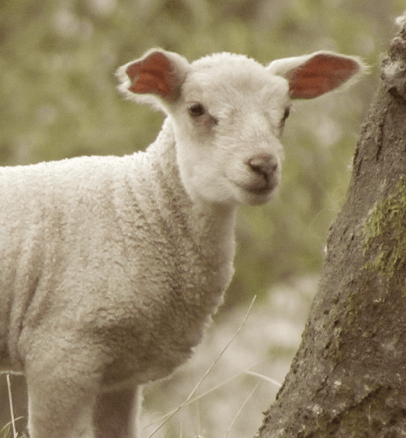 During the season of Lent, Christians everywhere meditate on the death and resurrection of Christ.
There's no more fitting text than Isaiah 53, which prophesies God's shocking plan to send his Servant to die for the sins of his people.
You likely recognize these lines:
We all, like sheep, have gone astray,
each of us has turned to our own way;
and the LORD has laid on him
the iniquity of us all.
He was oppressed and afflicted,
yet he did not open his mouth;
he was led like a lamb to the slaughter,
and as a sheep before its shearers is silent,
so he did not open his mouth. (Isaiah 53: 6-7)
Here we find the painful imagery of the Lamb of God who willingly suffers for the sins of the sheep who have gone astray. Just a few lines later, though, Isaiah joyously predicts Christ's victory over death and ultimate redemption of sinners:
After he has suffered,
he will see the light of life and be satisfied;
by his knowledge my righteous servant will justify many,
and he will bear their iniquities.
Therefore I will give him a portion among the great,
and he will divide the spoils with the strong,
because he poured out his life unto death,
and was numbered with the transgressors.
For he bore the sin of many,
and made intercession for the transgressors.
(Isaiah 53:11-12, NIV)
Isaiah 53 is very rich, and to many of us it is very familiar. But you might be surprised to discover the implications of one widely overlooked line. Look again at the beginning of verse 12:
I will give him a portion among the great,
and he will divide the spoils with the strong. (NIV)
In many English translations, this sounds like weak praise. God's Servant deserves to be among the great, but he's just one hero among many. He should get a prize for his efforts, along with others who are "strong."

Several scholars, however, think that this translation doesn't communicate what the original Hebrew is saying.* Listen to how this line is translated in the JPS (Jewish Publication Society) version:
Assuredly, I will give him the many as his portion,
He shall receive the multitude as his spoil.
The speaker here is God, and the Servant is not just "among the great." He's being given the multitudes. He's not dividing his spoil with others—the people are actually his spoils. He's being given the people because of his suffering on their behalf.
Wow. Isn't this a stunning thought? The Suffering Servant doesn't just deserve mild praise, he deserves to have multitudes of people to be given to him.
You may never have conceived of such a thing—giving a crowd of people to someone as a gift. But we find this same imagery in another significant place in Scripture:
I have installed my king on Zion, my holy mountain….
Ask me, and I will make the nations your inheritance,
the ends of the earth your possession.
(Psalm 2: 6, 8)
Psalm 2 is a messianic prophecy in which God announces that he has anointed his true King, the Messiah. As God's king is appointed to reign, he is "given" the nations as a gift. The people aren't just his subjects, they are his "possession."
A King Who Suffers for his Kingdom
Hmm. What a strange place to find this imagery. The victorious messiah of Psalm 2 seems to be the utter opposite of the suffering servant in Isaiah 53. Some Jewish traditions split them altogether, imagining that two different messiahs must come: the "Messiah ben Joseph" who suffers, and the "Messiah ben David" who reigns in power.
But if you read Isaiah 53:12 as being about God's Servant being "given the multitudes," these two messianic visions become one. First the Servant suffers to redeem his people, and then he's proclaimed God's true King. The multitudes that he is given are the people whose sins he's atoned for. In effect, he's "purchased" them. It's actually because of Christ's suffering that he is given his kingdom!
We find this idea in the New Testament in places like Acts 20:27, where it says that Christ "purchased" the church with his own blood. Paul puts it this way: "You are not your own; you were bought at a price." (1 Corinthians 6:23.) And the apostles often spoke of themselves as doulos Christou, "slaves of Christ."
As much as it chafes our modern ears to be called "slaves," it sounds like Jesus' death on the cross did not just pay for our sins, it purchased our very lives. If we've received him as our Savior and Lord, we've actually been given to him.
We are his, we're not our own. What does this mean for how we live?
Not Just for Me Personally
We Western individualists like to read the Bible as if it was written to each one of us all by ourselves. We sing praises to Christ for dying for "me personally," and "paying for my sins." Certainly that's true! But the biblical world thought in terms of we much more than I. That's why the Bible speaks of Christ purchasing an entire kingdom through his sacrificial death.
This year as you celebrate Christ's resurrection, remind yourself of the glorious scene in Revelation when the "Lamb" of Isaiah 53 finally takes his throne:
Then I saw a Lamb, looking as if it had been slain,
standing at the center of the throne,
encircled by the four living creatures and the elders.
They sang a new song, saying,
"You are worthy to take the scroll and to open its seals,
because you were slain,
and with your blood you purchased for God
persons from every tribe and language
and people and nation.
You have made them to be a kingdom
and priests to serve our God
and they will reign on the earth!"
Then I looked and heard the voice of many angels,
numbering thousands upon thousands,
and ten thousand times ten thousand.
… In a loud voice they were saying:
"Worthy is the Lamb, who was slain,
to receive power and wealth and wisdom and strength
and honor and glory and praise!"  (Revelation 5:6, 9-12)
~~~~~
* See Isaiah III Volume 2 / Isaiah 49-55 by Jan Koole, Leuven, Belgium: Peeters, 1998, pp. 336-339. Over four pages are spent analyzing this one line, explaining that while the translation we find in the NIV is admissible, it's actually less likely to be correct as the one in the JPS Tanakh.
The Septuagint, the Greek translation of the Old Testament from the third century BC, reflects this same interpretation, reading Isaiah 53:12 as "Because of this, he will inherit the many, and to the mighty he will apportion the spoils."