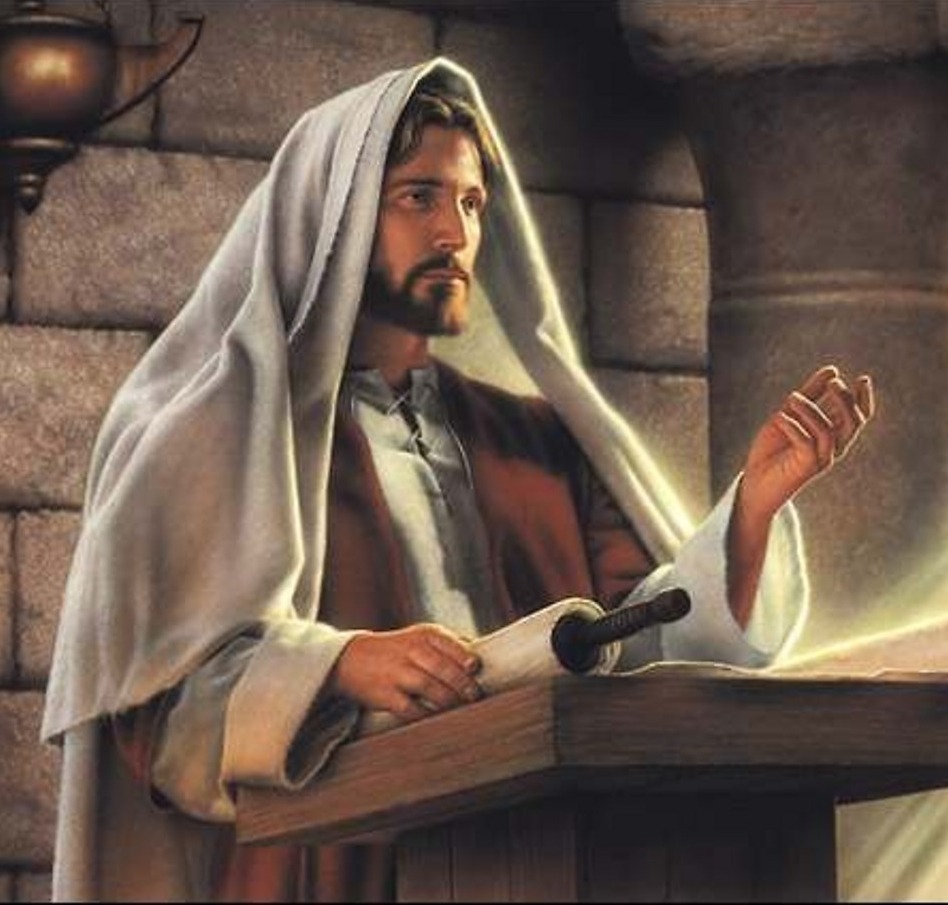 Is it all right to speak of Jesus as a "rabbi"? Some have suggested that the term may be from after Jesus' time, so to apply it to Jesus isn't appropriate. Others have said that Jesus rejected the title because he refused to associated with the Jewish religious teachers of his day. What is going on here?
The simplest answer is to look at the gospels themselves. In the text of the gospels, Greek letters are used to spell out the Hebrew word "rabbi" as ραββι rather than translating it into a Greek equivalent in 15 places (see Matt. 23:7, 8; Mark 9:5; John 1:38, 49, and elsewhere). In these passages, Jesus was called rabbi mainly by disciples – namely Peter, Nathaniel, and Judas, and some would-be disciples, including Nicodemus. John the Baptist's disciples called him "rabbi" too (John 3:26).
Here's one passage where ραββι is found:
When the two disciples heard him say this, they followed Jesus. Turning around, Jesus saw them following and asked, "What do you want?" They said, "Rabbi" [ραββι] (which means Teacher), "where are you staying?" (John 1:37)
Here John explains that his use of "rabbi" is the equivalent of the Greek word didaskalos, which means "teacher." It's reasonable to assume, then, that when we see Jesus addressed as "teacher" in English translations, the Gospel writers are using it to translate the word rabbi.
But there's more going on here. Right around the time of Jesus, there was a change in how the word "rabbi" was used. The word was not used as a title of a religious teacher in Jesus' time, but only became so after 70 AD. Jewish teachers who lived a few decades before his time, like Hillel and Shammai, were not called "Rabbi Hillel" and "Rabbi Shammai," even though they had numerous disciples. They simply went by their name with no title, like Jesus did. It was only after 70 AD that we find numerous religious teachers who had the title of "rabbi," like "Rabbi Akiva" or "Rabbi Eliezar."
Because of this, modern scholars refer to the era after 70 AD as "the rabbinic period" and speak of teachers in this period as "the rabbis." Religious teachers who gathered disciples prior to 70 AD are termed "sages," so Jesus was a "sage" rather than a "rabbi" by modern definition. In the minds of academics, calling Jesus a "rabbi" sounds as if he lived a few decades later than he did.
It is very important not to transplant Jesus from his own time into another. But if we disassociate him entirely from the Jewish teachers that lived slightly after him, it is misleading as well. It's important to remember that Jesus lived in the critical period of Judaism that formed the nucleus of later rabbinic thought.
The disciples of Hillel and Shammai were debating in his day, and their opinions became the focus of much of the discussion that is preserved in the Mishnah and Talmud. Jesus appeared to be commenting on their debates in some places, for instance, on divorce (Mt 19:3-9). Even if Jesus didn't interact with them directly, knowing what they believed is critical for understanding his Jewish reality.
What did Jesus' Disciples Call Him?
So what word would Jesus' disciples have used to refer to him? Rabbi. But in a different sense. It was traditional, even before Jesus was born, for disciples to address their teacher as rav, meaning "master" or "great one." You can see this in quotations from the earliest sages in the Mishnah, which spoke of the relationship between a talmid (disciple) and his rav (master). (For instance, Pirke Avot 1:6, from the 2nd cent BC.) The word for "teacher," moreh, referred to a teacher of children.
"Rav" was the same word that a slave would use to address his owner, displaying an attitude of humility. An "i" added to the end meant "my," so a disciple would address his teacher as rav-i, "my master," or rabbi. (In Hebrew, b and v are often interchangeable.) In the decades after Jesus' time, the word for "my master" gradually became the title of a Jewish religious teacher. This is very analogous to how clergy were once honored with the phrase, "the most reverend so-and-so," but later "reverend" became a professional title.
The gospels yield clues that Jesus' disciples called him rav-i in this older sense of the word. In Luke's gospel especially, we see Jesus being referred to as "master." (See Luke 5:5, 8:24, 8:45 and elsewhere.) We also hear Jesus saying,
A disciple is not above his teacher, nor a slave above his master. It is enough for the disciple that he become like his teacher, and the slave like his master. (Matthew 10:24-25)
The reason Jesus made this comparison was likely because the disciples were calling him rav, and addressing him as rav-i, "my master." The fact that John translates the word rabbi as didaskalos shows that the word was also understood to mean "teacher" as well.
This sheds light on Matthew 23: "Everything they do is done for men to see… they love to be greeted in the marketplaces and to have men call them 'Rabbi.' [ραββι]  But you are not to be called 'Rabbi,' for you have only one Master and you are all brothers" (vs. 5,7-8, NIV). Jesus' was objecting to his disciples demanding others pay them obeisance and competing for honor with each other. But he did not object when his disciples used rav-i to refer to him. Rather, he expected that if they honored him with a special title, it should be accompanied by obedience: "Why do you call me 'Lord, Lord' and not do what I say?" (Luke 6:46)
To sum up, some modern scholars do not refer to Jesus as a "rabbi" because the boundaries have been set to define him as slightly before the rabbinic era (post 70 AD). But the gospels themselves explicitly spell out the word "rabbi" in reference to him. And Jesus himself speaks as if he expects that we as his followers would think of him as our "master." It seems very appropriate, then, that if we are his disciples, we should speak of him as our "rabbi."