The task is not yours to complete, but neither are you free to desist from it. Pirke Avot 2:21
In The Book of Jewish Values, Rabbi Joseph Telushkin poses an interesting ethical question. Is it permitted for a Jew to smoke? He asks this because biblical law has an overall goal of protecting human life. Long ago the rabbis concluded that the Torah forbids doing anything that would needlessly endanger one's life. The rabbis pointed to Deuteronomy 4:15, which they read as, "You shall carefully preserve your lives."
Dangerous, thrill-seeking sports like rappelling off of cliffs is clearly prohibited. So is skydiving from low planes. On Yom Kippur when every Jewish person fasts, people who are ill are not permitted to do so, because of the risk to their lives. Your life is a precious gift from God that has a purpose in his greater plan, and it's not yours to gamble with.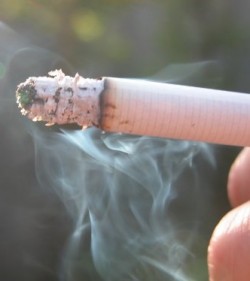 But what about smoking? Nowadays we know how poisonous this habit is. Hundreds of years ago smoking was thought to be healthy for ones' lungs, and rabbis of that era ruled that it was perfectly permissible. Many Orthodox rabbis were heavy smokers and some still are.
But Telushkin argues that if earlier rabbis would have known that it is a needless risk to human life, they would not have permitted it. So he concludes that even though Jewish law allows it, it is unethical to start smoking or encourage others to do so. Makes sense to me.
But what I found extremely insightful was Telushkin's advice to smokers who just can't quit: "Regarding those who already smoke, if it is possible for them to break their addiction, they should; if they cannot, then let them at least smoke less."*
Smoke less!
I laughed out loud. If smoking is wrong, should we just do less of it? I shared that with several Christian friends and it made no sense to them. If something is a sin we should immediately stop doing it, we all declared.
It might sound as if Rabbi Telushkin is waffling on the issue – that just he doesn't want to push too hard. But from what I know of Jewish thought and Telushkin's other writings, I believe he is saying something more important. His comment actually illustrates a different philosophical approach to the law in Judaism than in Christianity, something we can learn from.
The Task Is Not Yours to Complete
The way Christians generally approach a moral issue like this is to say, "Thank goodness I'm saved by grace" and keep on doing what is wrong. Isn't that how we deal with our gossip and lustful thoughts and occasional lies? We know we're sinners and can never be perfect, but God loves us anyway. Isn't that a common Christian approach to living?
Much of Protestant Christianity has understood the function of God's law as to show us our sinfulness, so that we'll come to Christ for salvation. We read Jesus' words about "Love your enemies" and we see the rightness of doing so. But following his commands perfectly unattainable for us, so we generally don't try to hold ourselves to that standard. We just claim "saved by grace apart from works" and go on living our own way. We see laws as arbitrary standards of conduct that simply show how far we are from God, and are glad Christ paid the price for us to not need to worry about these fences that separate us from God's holiness.
The Jewish attitude about the law is very different. Contrary to our assumptions, their discussions on the law are not about earning one's way to heaven. Jewish thought generally assumes that Jews are already saved because of God's covenant with Israel. So their debates about the Torah are not about meriting salvation, they are an attempt to describe how to live in a way that pleases God. They see the Torah as God's ultimate will, the instructions that a loving God gave in order to have life to the fullest. If they can't follow the Law perfectly today, they'll do their best to do what they can, and try even harder tomorrow.
In the late first century AD, Rabbi Tarfon summed this up by saying, "The task is not yours to complete, but neither are you free to desist from it." (Pirke Avot 2:21) You may not be able, as a sinner, to be completely obedient, but you cannot give up trying.
Smoke less today, and try to quit tomorrow.
What is ironic is that this idea is the opposite of the legalistic stereotype that Christians have given Jews. We assume that if you spend time meditating on God's laws, you'll be harsh and unbending on how to live them out. But because Jewish thought devotes so much energy to how the Torah applies to all of life, over time it has developed a patience and realism about what people can do and what they can't. People are encouraged to keep aiming to live up the ultimate standard, even if they aren't able to do so today.
Listen to the words of Rabbi Nachman of Braztlav (1772-1810): "If you are not going to be better tomorrow than you were today, then what need have you for tomorrow?"
As Christians, we can see how the rabbinic emphasis on obedience can teach us too. Doing what Jesus commanded is not about salvation, but about discipleship. Salvation is a free gift bought with Jesus' death on the cross. And discipleship is a lifelong journey of dedicating ourselves to become more like Christ. We could paraphrase Rabbi Nachman's words to say: "If you are not going to be more Christlike, more obedient, more useful in God's kingdom tomorrow, what point is there for you to continue living?"
I've grown up in a tradition that has emphasized the overwhelming dangers of legalism, tying salvation to righteous living. But we've under-emphasized the opposite danger – falling into lawless living after coming into a saving relationship with Christ. We can become useless disciples that never bear fruit because we're so unwilling to conform our lives to God's will.
If you can't stop gossiping altogether, gossip less today. If you can't be perfectly kind to other people, aim to be less unkind today. If you can't be perfectly honest, keep yourself from lying today. And try again tomorrow, asking the Lord's help, to do even better.
The task is not yours to complete,
but neither are you free to desist from it.
* From The Book of Jewish Values: A Day-By-Day Guide to Ethical Living (Bell Tower, 2000) by Rabbi Joseph Telushkin, pp 51-53. The quote from Rabbi Nachman is found on p. 2 of the book. Note: This is one of my all time favorite books. I spent over a year reading through it with a study group and our lives were changed. I highly recommend you get a copy at Amazon and work through it with some friends.