If your eye causes you to sin, pluck it out and throw it from you. It is better for you to enter life with one eye, than to have two eyes and be cast into the fiery hell. Matthew 18:9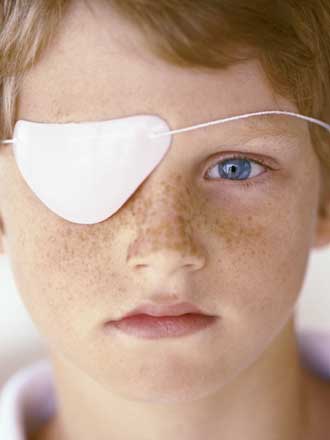 Some of the sayings of Jesus are so strong that we wonder if Jesus really wants us to take them literally. Should we really pluck out our eye, as the verse above says? Is it really harder for a camel to go through a needle's eye than a rich man to enter God's kingdom? Is is really better to be drowned with a millstone than to lead a little one astray? Jesus' words can make us wince when we aren't quite sure how to take them.
One thing to keep in mind is that exaggeration was very much a part of Jesus' rabbinic culture. To drive home the importance of what they taught, rabbis often spoke this way. For instance,
When three eat at one table and words of Torah are not spoken there, it is as if they ate at the altars of the dead… But when three eat at one table and bring up words of Torah, it is as if they ate from the table of God! (Mishnah, Avot 3.2-3)
The point of this teaching is to emphasize that people should try to always include discussion of the scriptures when they eat together. Likening a meal without Torah study to worshipping in an idolatrous temple is a strong overstatement intended for emphasis. Here's another example:
The pain of humiliation is more bitter than death. Therefore, one should rather fling himself into a fiery furnace than humiliate someone in public. (Talmud, Bava Metzia 59a)
Here we have a saying that sounds a lot like "pluck out your eye." The point is to emphasize the utter importance of never humiliating another person. In the same way, Jesus was stressing the importance of avoiding sin in every possible way.
Knowing this aspect of Jesus' culture should give us some sense of how his audience heard statements like, "Unless you hate your mother and father… you cannot be my disciple" (Luke 14:26). He sounded like many other rabbis who said extreme things to reinforce the importance of their teaching. People took these teachings seriously, but knew they were overstatements for effect.
Don't forget that a person can be deadly serious even as they exaggerate. Imagine that your mother shouted at you, "When your father gets home and sees you, he's going to go through the roof!" Just because your father won't literally go through the roof when he gets home doesn't mean that you're not in big trouble.
We must be careful never to minimize Jesus' high calling away as exaggeration. But at the same time, we gain wisdom for understanding Jesus' words by getting a better idea of how they would have been heard in his time.