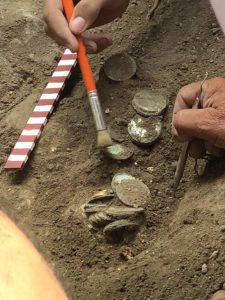 Have you ever wished you could to take part in an archeological dig in Israel? Here's a chance of a lifetime!
This summer, there will be two excavation sessions at El Araj, the most likely location of Bethsaida, a New Testament village on the Sea of Galilee. Taking place on June 26-July 10 and then on July 10-24, both sessions are open to volunteers, and students are able to get academic credit for the dig.
Biblical Significance of Bethsaida
He took them and withdrew apart to a town called Bethsaida. When the crowds learned it, they followed him, and he welcomed them and spoke to them of the kingdom of God and cured those who had need of healing. (Luke 9:10-11)
Bethsaida is a key location in the gospels. It is the birthplace of three of Jesus's disciples, Peter, Philip and Andrew, and where Jesus did much of his ministry. There, he gave a blind man sight (Mark 8:22), fed the five thousand (Luke 9:10-17), and walked on water (Mark 6:45).
Despite its significance, scholars have been unsure of where Bethsaida was located. We know that it was a fishing village, so it was probably near the lake. The site that had been assumed to be Bethsaida is located over a mile from the Sea of Galilee, probably too far from the lake to be a fishing village.
In 1998, Sea of Galilee expert Mendel Nun published his analysis of various sites and his conclusion that the El Araj site is a more promising location. However, the spot remained untouched until 2014, when a team of professors and students surveyed the area. Finally, in 2016, the formal excavation of the site began.
My Trips
Archeologists have been working on the site since 2016. Twice I've taken participants and surveyed the results (but not dug myself). I first joined them in the summer of 2017, accompanying a local high school student on the trip.
As we were preparing to leave I said to her, "You know, the results of your digging will likely be in international headlines." She laughed at the thought, but sure enough, I was right! USA Today, National Geographic and others reported on their findings. (Read my report here.)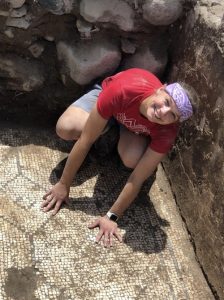 In the summer of 2019 I returned with my niece, Marta, who was one of the volunteers for the dig. Their results were even more amazing! They uncovered part of a huge, beautiful mosaic floor, likely belonging to a 6th or 7th century Byzantine church that marked the birthplace of the apostles Philip and Andrew.
The team also found numerous remains from the Roman Era (around the first century), including many fishing net weights, confirming the area was most likely a fishing village. Ground-penetrating radar sensed that the surrounding area is full of ancient buildings.
Once again, they were in the news. Christianity Today featured an article and Biblical Archaeology Review listed them as #3 of the top ten discoveries in 2019.
I joined them for a couple days at the end of the digging, and got to watch my niece Marta unearth a new section of the mosaic floor of the ancient church. It was amazing to think that ours were the first eyes in 1300 years that had seen that ancient floor. (You can see some brief clips at this link.)
That same day, another team unearthed a hoard of coins, including even gold ones. When the archaeologists saw that the coins dated to the 1800's, they lost interest. They were looking for ancient remains, preferably from the Roman Era, and these were far too modern. It amazed me that we could dig up a literal treasure, but it was of no value compared to what they were actually looking for.
Much more work still needs to be done, and you're invited to join them. Anyone with strong arms and a good work ethic (and tolerance of heat) is welcome. You don't have to be an expert beforehand, but you'll learn a lot from 10 days of digging as well as lectures and field trips to other sites, where the archaeologists in charge will share their latest findings.
Join Them
Many people who visit Israel feel more connected to the story of the Bible, watching it "come alive" as they walk where Jesus and his disciples walked. How cool is it that we can watch a biblical location be discovered?
I invite you to join the team this year. More information about the dig can be found on the Emmaus website. There you will find more information about cost, the daily itinerary, and how to join. The application can be found here.
~~~~~
Immediately Jesus made his disciples get into the boat and go on ahead of him to Bethsaida, while he dismissed the crowd. After leaving them, he went up on a mountainside to pray. (Mark 6:45)