I've been thinking about Hebrew words and language lately, and analyzing the words that I use. I've noticed that my vocabulary is peppered with words from other languages.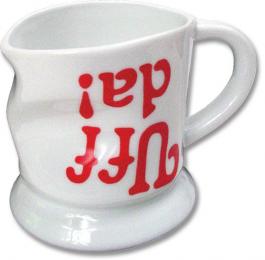 Many of my unusual words come from my Norwegian ancestors. For instance, I grew up saying uff-da. Many have seen "uff-da" on bumper-stickers and refrigerator magnets, but I grew up with uff-da in my blood. I was saying it long before it starting coming out on coffee mugs.
Uff-da is an exclamation that means "Eww" or "Yuck" or "How too bad". If you're taking out the garbage and you spill it all over, you cry out, "Uff-da!" Or, if a friend tells you that they tripped on the ice and sprained their wrist, you say, "Oh, uff-da!" It expresses your shock and dismay.
Another Norwegian word that my family used was vasakope (VAH-sah-kope). It's a semi-humorous way to refer to a child who just won't mind — a mischievous little imp, a scallywag. When a child is misbehaving, his or her exasperated mom might exclaim, "Such a vasakope you are today!" I'm not sure how the rest of you get along without it – it comes in handy so often. I must know a lot of impish children.
I've also learned a few words from my friends of Dutch heritage here in western Michigan. They talk about "kletzing," which I think means gathering with friends for conversation and fun. Or being "benauwt," which means to feel oppressed or stifled. People use the term either when they are anxious or when they're sweltering on a hot, muggy day. When I try to translate, my friends say, "well, that's not quite it" – the words have a mood all their own.
One Dutch word I particularly enjoy is "sputten." It's to be irreverent, flippant, or too casual about religious matters. When my friends were kids, if they started making fun of the way the pastor preached or told jokes about Jesus, an elderly aunt would chide them with, "No more sputten here!" You can sense the immigrant piety of their Dutch upbringing.
A common feature of all these interesting ethnic words is that they express ideas that don't quite carry over to English. They encapsulate a unique mood or a cultural attitude. Or, they define something in that is true, but has just not been boiled down to a word that we have. Instead of translating them, it's more effective to just use the foreign original and then explain to those who don't get it.
What about you, the readers of this blog? What interesting words have you been using that just don't have an equivalent in English?
~~~~~
For more on the meanings of Hebrew words that don't quite translate into English, see my latest book, 5 Hebrew Words that Every Christian Should Know.