I'm always fascinated to dig into the Hebraic background of words we know from the New Testament. One prominent word we encounter is euangelion – "gospel" or "good news." We hear it all the time in the New Testament, but what can we learn about its meaning and imagery when we find it in the Scriptures that Jesus read?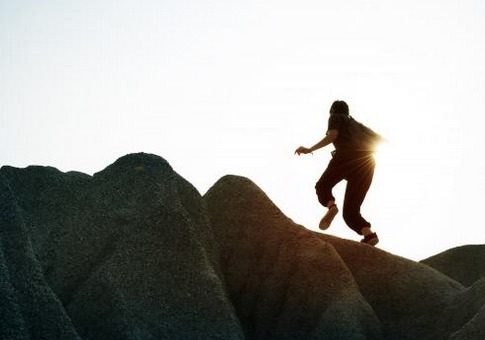 How Beautiful are the Feet of the Mevaser
In Hebrew the equivalent word for euangelion is besorah (be-so-RAH), and the one who reports it is a mevaser (me-va-SAIR), usually. This person is not just an ordinary messenger who carries information from one person to another. The person is specifically tasked with bringing important news, which usually is very good. (1) It can be news of a birth (as in Jer. 20:15), but it is more often news of national significance like a victory in battle, the end of a war, or that a new king has taken power.
In the New Testament, the ones who share the euangelion are called ευαγγελιστές, "evangelists." More broadly, you could say that a mevaser is a herald, one who makes an official proclamation. One place that we find it is in Isaiah 52:7:
How beautiful on the mountains are the feet of the mevaser
who proclaims peace, who brings good tidings
who proclaims salvation,
who says to Zion, "Your God reigns!"
Imagine the scene… a protracted battle has gone on between Israel and an enemy, and the fate of the nation hangs in the balance. Agonizing months go by, and every household is consumed with worry over the potential loss of a husband or son. Finally the enemy surrenders and mevaser is sent from the battlefield to proclaim the news: God has given them victory!
Just catching a glimpse of a runner in the distance with a dust cloud rising behind him must have been a source of joy, because everyone knew he was likely bringing news they had been awaiting for so long.
Thinking Hebraically about the New Testament, you can imagine how the word euangelion/ besorah carries this imagery. After centuries of waiting, God had come to the rescue of his people in the person of Jesus Christ. Sin and death had been defeated and the battle had been won. All of humanity was called to repent and receive Jesus as God's anointed King over their lives.
Surprising Messengers
You might be surprised about just who is chosen as bearers of besorah in the Old Testament/ Hebrew Bible. Certainly men were sent out with important news, as in Isaiah 52:7 above. But surprisingly we find women appointed to this task  too. (2) In the singular, a female herald is called a mevaseret (me-va-SAIR-et) and in plural they are mevaserot (me-va-sair-OTE). Consider this passage:
God shall arise, his enemies shall be scattered;
and those who hate him shall flee before him!…

The Lord gives the word;
the women who announce the news (mevaserot) are a great army:
"The kings of the armies—they flee, they flee!"
The women at home divide the spoil. (Psalm 68:1, 11-12)
In this psalm, it sounds like God has once again won a battle. He has now appointed an army of women to proclaim the message that the leaders of the terrifying enemy battalions have turned tail and are running away. Why are women relaying the word? Perhaps the men had all been called to the battlefield. The ones who hear their news are the women still at home, who joyfully emerge to claim the valuables left by the fleeing invaders.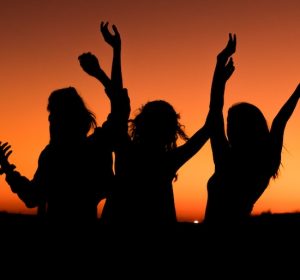 Another reason might be because of another widespread tradition in the Ancient Near East– that when a battle was won, the women would celebrate the victory by singing and dancing in triumph. We see this after God defeated the Egyptian army at the Red Sea when Miriam led the women with tambourines and dancing and Miriam sang,"Sing to the LORD, for he has triumphed gloriously; the horse and his rider he has thrown into the sea." (Exodus 15:20-21)
In Judges 5, we see Deborah joining Barak in leading the victory song that recounted the Israelites' defeat of the Canaanites. And, when David and Saul return from battle, the women dance to the chorus, "Saul has slain his thousands and David his tens of thousands" (1 Samuel 18:6-7). In Psalm 68, it sounds like the women were both proclaiming the good news and celebrating the victory at the same time.
The Heraldess to Zion
Another key passage in the Old Testament has similar imagery of God sending a female herald with wonderful news. You can't hear it, though, if you only read the text in English:
You who bring good news to Zion,
go up on a high mountain.
You who bring good news to Jerusalem,
lift up your voice with a shout,
lift it up, do not be afraid;
say to the towns of Judah, "Here is your God!" (Is. 40:9, NIV)
In Hebrew, the word "you" along with all the verbs in this verse are feminine.(3) There is no way to translate this because in English we don't differentiate between masculine or feminine when we speak in the second person (you) as we do in the third person (he/she).
Here, God is calling a heraldess to ascend the mountains near Jerusalem and loudly proclaim that God has come. Not only will Jerusalem hear the proclamation, all the towns nearby will hear it too.(4) What the heraldess announces is tremendously comforting:
See, the Sovereign LORD comes with power,
and he rules with a mighty arm.
See, his reward is with him,
and his recompense accompanies him.
He tends his flock like a shepherd:
He gathers the lambs in his arms
and carries them close to his heart;
he gently leads those that have young. (Isaiah 40:10-11)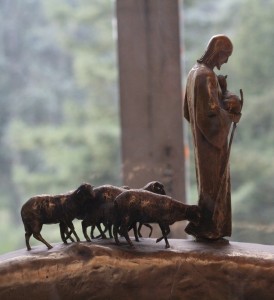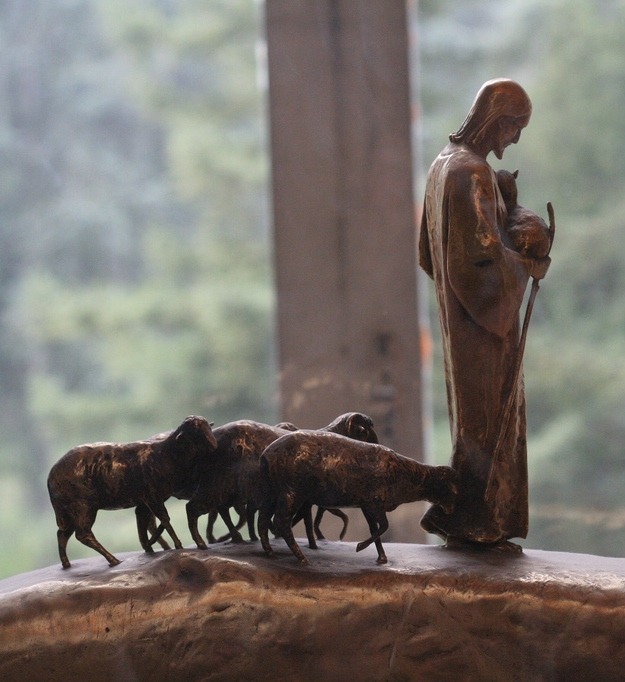 Here, God is not a warrior returning from battle but a loving shepherd gently leading his flock home. Isaiah was speaking prophetically about the end of the exile to Babylon, when after suffering God's punishment for seventy years, the Judeans could finally return to their land. God would come victoriously to take them in his arms and carry them home. (6)
As Christians we hear this prophecy as ultimately looking forward to Christ's coming to save God's lost and wandering sheep.
Much Joy-Filled Imagery
You might think that the New Testament is where the "Gospel" begins, but the Hebrew Bible contains much imagery of joyous news being proclaimed by a mevaser or mevaseret. God has been winning victories and surprising his people with good news for a very long time.
We also find that God has a history of not just appointing men to proclaim messages of euangelion, but women too. While we don't actually see women being called "evangelists" (ευαγγελιστές) in the New Testament, there is a key scene in the Gospels where you could say they had this role. At early dawn that day after the crucifixion, the very first people to be informed that Christ had risen from the dead were Mary Magdalene, Joanna and Mary the mother of James, as well as a couple other women (Luke 24:6). They were the ones appointed to tell Jesus' closest disciples this critical news about God's victory over death.
I bet that this is an honor that these women haven't forgotten even until this day.
~~~~~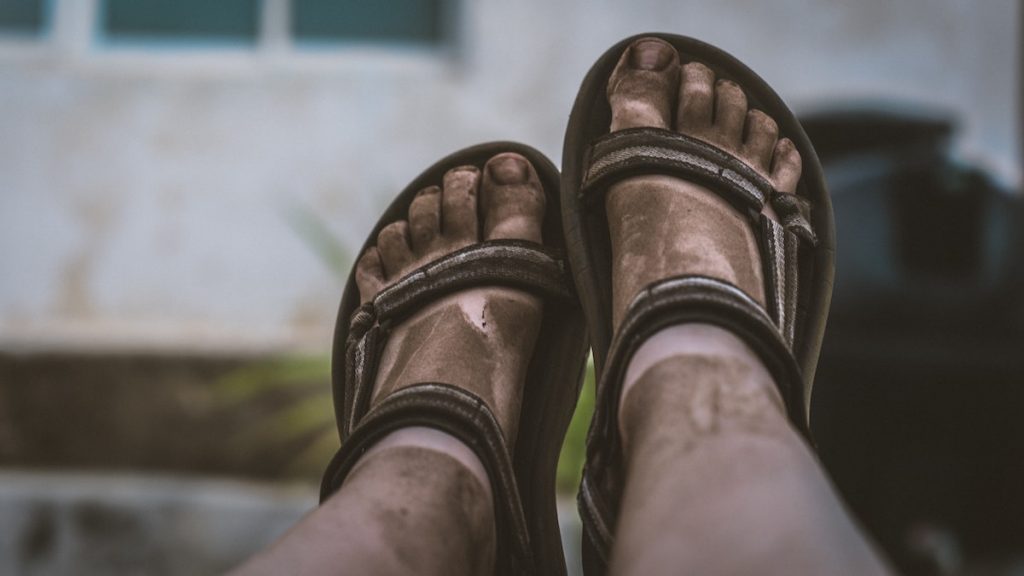 (1) The assumption was that besorah was good news, but sometimes ironically it was bad news instead. In sorrow, Jeremiah curses the mevaser who announced his birth to his father (Jeremiah 20:15).
(2) This was true elsewhere in the Ancient Near East as well. David Baker writes, "While messengers were generally men, female messengers ('a daughter of the message') were also used in Mesopotamia." Anat brings good news to Baal in the Ugaritic Baal myth. She shouts: "You have good news, Baal. I bring you good news." His long-awaited house may be built just as these long-exiled folks will be restored. Zondervan Illustrated Bible Backgrounds Commentary Vol. 4, (Grand Rapids, Zondervan, 2009) p 132.
(3) For those who read Hebrew here it is:
עַ֣ל הַר־גָּבֹ֤הַ עֲלִי־לָךְ֙ מְבַשֶּׂ֣רֶת צִיּ֔וֹן

הָרִ֤ימִי בַכֹּ֨חַ֙ קוֹלֵ֔ךְ מְבַשֶּׂ֖רֶת יְרוּשָׁלִָ֑ם הָרִ֨ימִי֙ אַל־תִּירָ֔אִי

 אִמְרִי֙ לְעָרֵ֣י יְהוּדָ֔ה הִנֵּ֖ה אֱלֹהֵיכֶֽם׃
(4) There are some translations of Isaiah 40:9 that interpret the feminine endings as if God was telling Zion to be a herald, (the city of Jerusalem, which is feminine), not sending a herald to Zion. This makes little sense because the place that a herald is sent to must be specified. It's as if the city of Jerusalem is being told to run up a mountain to announce the news, not that a messenger is being sent to the city and villages on the surrounding mountainside.
My thanks to Sharon Buth Alley, of the Biblical Language Center, for sharing her Hebrew expertise.
(Images: Levi Guzman, Danique Photography, Pixabay)