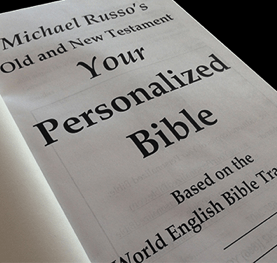 (Based on an excerpt from my upcoming book, Reading the Bible with Rabbi Jesus (Baker, 2018).
Did you know that you can now order a copy of a Bible translation called "Your Personalized Bible" which will insert your name in more than seven thousand verses? 1 Here are a few verses from my copy:
Lois like a sheep has gone astray. Lois has turned to her own way; and the Lord has laid on Him Lois's iniquity. (Isa. 53:6)
Lois is the light of the world. (Matt. 5:14)
You have made Lois a little lower than God,
And crowned Lois with glory and honor.
You make Lois a ruler over the works of Your hands.
You have put all things under Lois' feet. (Ps. 8:5–6)
You might think I'd be a fan of this style of study. I'm single, never married. I'm self-employed. I work by myself out of my own home office. I have no boss, no husband, no children. I'm queen of my own pleasant little world.
I've heard the siren call of individualism and succumbed as much as anyone, so you'd think I'd want to read my Bible that way. The more I study the Bible, however, the more I'm realizing the many ways that a me-o-centric approach misunderstands the text.
Take, for instance, this Bible's translation of 1 Corinthians 3:16, "Lois is a temple of God." Often people read this line as saying, "Your body is a sacred 'deity-shrine' and you must pamper it accordingly."
Paul, however, wasn't trying to convince us to apply more UV-blocking moisturizer and eat more leafy green vegetables. Rather, he was telling the Corinthians that all together they were the temple of God, and that they were being built together into one dwelling place for his Spirit. Pagans had many temples, but the true God had only one. They were the "house," the beit that God had promised to David—not just a structure but a lineage, a family. Paul's focus was not on each person individually but rather on the body of believers as a whole.
~~~~~
 1 Your Personalized Bible, based on the World English Bible (public domain) (Richland, VA: Phronesis, 2013). The italicized "Your" is actually part of the title, in order to emphasize how much this Bible is for you, personally.
(Images: Wikipedia, Flikr: Dennis Jarvis, Daniel Toth)