(This is the second of two articles based on a talk I recently gave called "Jesus Bold Messianic Claims." The first is here: Jesus' Messianic Claims: Very Subtle, Very Jewish.)
.
If you're unaware of Jesus' Jewish context, his parables and teachings can seem disconnected to the worshipful language that the rest of the New Testament uses to describe him as the Christ. But when you do know his culture, you start hearing him applying powerful prophecies about the coming Messiah to himself.
Many of these describe God's promise that he would one day send a king to rule over Israel who would rule over the whole world. When the prophets spoke about how a "scepter shall rise out of Israel" or that "God would establish the throne of David" the imagery is that of a valiant king ascending to power.
You find these same ideas within the passages that Jesus applied to himself. When he himself as the "Son of Man" who would some day "come on the clouds" everyone knew that this figure would soon be given dominion and a kingdom without end. (Daniel 7:14)
Likewise, when he referred to God as "my father," they would have recalled the well-known messianic scene in Psalm 2, where God's "son" is announced to the world so that he can be given dominion over it:
I will surely tell of the decree of the LORD: He said to me, "You are my son, today I have brought you forth. Ask of me, and I will surely give the nations as your inheritance, and the very ends of the earth as your possession." (Psalm 2:7-8)
Christians read "my father" as denoting an intimate relationship with God. It might surprise you that Jesus sometimes used "my father" in the context of his having sovereign, supreme authority, like in Luke 10:22 "All things have been handed over to me by my father…" Jesus was fully aware of the Psalm 2 imagery and its implications.
.
The Monkey Wrench in Jesus' Words

What we find confusing about Jesus' messianic claims is that he often combines them with another prediction: that he must suffer and be rejected and killed (Mark 8:31 and elsewhere). Christians, of course, recall the prophecy of Isaiah 53, about God's "Servant" who suffers for his people's sins:
We all, like sheep, have gone astray,
each of us has turned to our own way;
and the LORD has laid on him
the iniquity of us all.
He was oppressed and afflicted,
yet he did not open his mouth;
he was led like a lamb to the slaughter,
and as a sheep before its shearers is silent,
so he did not open his mouth. (Isaiah 53: 6-7)
But there seems to be no connection between this figure and the royal, victorious king. Some wonder if there even needs to be two Messiahs, a "Son of Joseph" (who would suffer) as well as a "Son of David" (who would reign).
How could Jesus connect the Suffering Servant with being God's glorious reigning Messiah?  I think I've discovered an important clue in the Jewish Publication Society Tanakh, the English translation of the Hebrew Bible (Old Testament).
Isaiah 53 culminates with the proclamation that "after the suffering of his soul, he will see the light of life and be satisfied; by his knowledge my righteous servant will justify many, and he will bear their iniquities." (Isaiah 53:11) But the very next line doesn't make much sense to us in most translations. Many render verse 12 something like this:
I will divide him a portion with the great, and he shall divide the spoil with the strong. (RSV)
To our ears this sounds like tepid, half-hearted applause. Along with many other great figures, the Servant will be given a portion. But the JPS Tanakh (1984 version) translates the Hebrew here very differently:
Assuredly, I will give him the many as his portion,
He shall receive the multitude as his spoil. (JPS)
The speaker here is God, and he is not just giving the Servant a pat on the back for his efforts. God is rewarding his Servant by giving him the multitudes of peoples as his "portion," his "spoils" for having suffered on their behalf.
Notice that the idea of "being given a multitude of people" evokes the same language as Psalm 2, when God gives his Son the nations as his "possession" and "inheritance." (The verb halak, "to apportion" means to "grant an inheritance" or "to divide something valuable.") In Daniel 7, we also see a vision of the Son of Man being brought before the throne of God and then bestowed with a vast kingdom.
Reading Isaiah 53:12 in this way makes the passage sounds quite messianic. Because of his suffering, God's Servant is being granted a kingdom, just like the Son of Man in Daniel 7 and the royal Son of Psalm 2.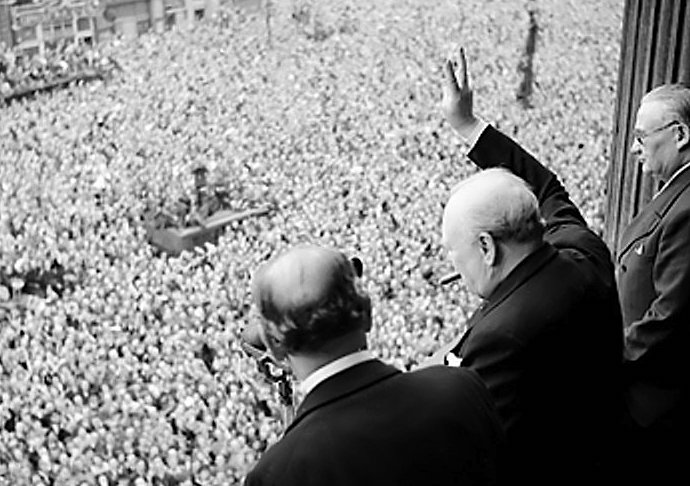 Assigning a Kingdom

Did Jesus read Isaiah 53:12 this way? Well, listen to what Jesus said at the Last Supper. Right after he holds up the cup and the bread and announces a New Covenant, he says:
You are those who have stayed with me in my trials, and I assign to you, as my Father assigned to me, a kingdom, that you may eat and drink at my table in my kingdom and sit on thrones judging the twelve tribes of Israel. Luke 22:28-30
The language here echoes that of Isaiah 53:12, about being Christ's being assigned ("apportioned," "divided,") a people, and then dividing the spoils with the strong.* Just as Jesus will be rewarded for his suffering, so will his disciples who are persecuted on behalf of God's kingdom. They are the "strong" in the sense that they've remained committed to serve God until their last breath, as he has.
It sounds like Jesus is even framing this promise in language of Psalm 2, speaking of God as his Father who will grant him a "kingdom." Just as Jesus will reign over God's kingdom, his disciples would too.
Interestingly, the larger context of this passage is Jesus' message to his disciples not to seek to be powerful kings but to be humble servants. Immediately beforehand, Jesus says,
The kings of the Gentiles exercise lordship over them, and those in authority over them are called benefactors. But not so with you. Rather, let the greatest among you become as the youngest, and the leader as one who serves. For who is the greater, one who reclines at table or one who serves? Is it not the one who reclines at table? But I am among you as the one who serves. (vs. 25-27)
At the same moment that Jesus speaks of his father granting him a kingdom, he identifies himself as the "one who serves." The connection here seems unmistakable. Jesus is claiming to be both the King of Kings and the Servant of Isaiah 53.
 .
~~~~~
For more thoughts on this passage, see my article "A Surprising Idea in Isaiah 53."
*The Septuagint agrees with the JPS for the most part, rendering the verse, "Because of this, he will inherit the multitudes and to the mighty he will distribute the plunder." The JPS interprets the second half of verse 12 as a parallelism with the first half, but it can be read either way, as either that God will apportion the spoils to the Servant, or that the Servant will apportion the spoils to the strong. It looks from Luke 22:29 that Jesus interpreted it the second way.
References:
Isaiah III Volume 2 / Isaiah 49-55 by Jan Koole Leuven, (Belgium: Peeters, 1998), 336-339.
JW Olley, "'The Many:' How is Isaiah 53:12a to Be Understood" Biblica 68 (1987), 330–56.