A surefire way to immerse yourself in the culture of Israel is to take a public bus in Jerusalem. Because of the bumper-to-bumper traffic, everybody, rich and poor, rides the "Egged" buses around town.
Ethiopian Jews wrapped in swaths of white fabric sit next to wizened Russian babushkas. A college-age girl in army fatigues chats on a cell phone. Little boys in black suits clamber up the huge steps, side curls and tassels bouncing in the breeze. Their long-skirted, head-scarved mother follows closely behind.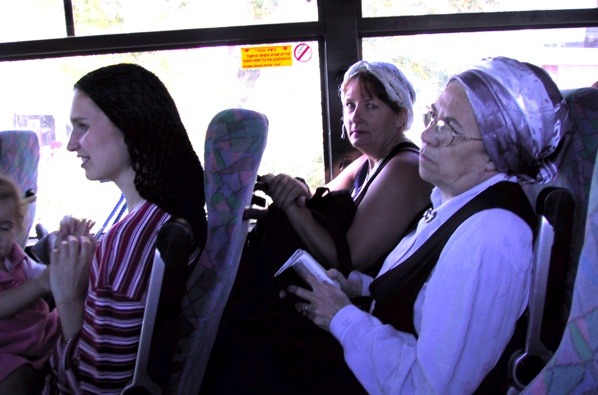 One afternoon when I was riding downtown, I got an even stronger taste of the culture. A grey-haired, matronly retiree climbed aboard and plunked herself into an empty seat halfway back. She hadn't, however, paid any fare—she had just shuffled past the driver, feigning ignorance.
Craning to make eye contact in his mirror, the driver called back to her over the crowd. "Eifo geveret?" (Where to, ma'am?) At first she stared out the window, pretending not to notice.
"Eiyyyfo, geveret?" The whole bus looked on.
Finally, she barked back a gruff response, completely impenitent. A flurry of indecipherable Hebrew filled the air, the gist of which was obvious: either buy a ticket or get off.
But the woman was immovable—glued to her seat, adamant. The driver threw up his hands at her, the universal (and widely used) Israeli gesture of annoyance and disgust.
The bus didn't move either. Right in the middle of Nevi'im Street, a major artery with only a single drivable lane, the driver shifted into park, snapped open a newspaper, and sat back to read the headlines. Blocks and blocks of traffic snaked to a standstill behind us. After what seemed forever, the woman slowly rose and exited the side doors.
Half of Jerusalem came to a stop for this lady. That's what you call chutzpah—utter nerve, sheer audacity that borders on obnoxiousness. Both the woman and the bus driver knew how to push the boundaries of propriety for their purposes!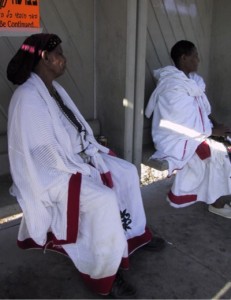 If you grew up as a small-town Midwesterner like me, you'd find this behavior nearly unimaginable. I come from the land of "Minnesota Nice," where we'd rather die than violate our code of mild-mannered courteousness. For me, the bus ride was a cultural journey to the ends of the earth. We're not in Minnesota anymore, Toto.
But an attitude of chutzpah (HOOTS-pah) has been part of Middle Eastern culture since ancient times. If you were one of Jesus' first-century disciples, you'd be quite familiar with this kind of behavior.
Consider, for instance, the Syrophoenician woman who wouldn't take no for an answer after pleading with Jesus to heal her daughter (Mark 7:25-30). Jesus and his weary disciples had taken cover in a house in Tyre, hoping to evade the crowds, but her continual pounding at the door threatened to expose their hideout.
Exasperated, the disciples could tolerate her no longer, imploring Jesus, "Send her away! She keeps shouting at us!" But the distraught young mother pushed right past them, bowing before Jesus himself. Surprisingly, he rebuffed her too, like the Israeli bus driver: "It isn't right to take the children's bread and toss it to the dogs." His mission, at that point, was only to the Jews. But the desperate woman boldly contradicted the greatly esteemed rabbi. "Yes, but even the puppies eat the crumbs at the children's feet!"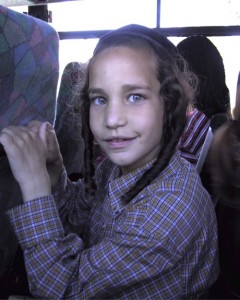 Unlike the lady on the bus, this woman's tenacious, brazen nerve won out. Jesus healed her daughter and congratulated her for her chutzpah.
Believe it or not, Jesus actually liked this kind of boldness. When he was preaching about prayer, he even told a parable where the heroine is just like the Syrophoenician lady:
In a certain town there was a judge who neither feared God nor cared what people thought. And there was a widow in that town who kept coming to him with the plea, 'Grant me justice against my adversary.' For some time he refused. But finally he said to himself, 'Even though I don't fear God or care what people think, yet because this widow keeps bothering me, I will see that she gets justice, so that she won't eventually come and attack me! (Luke 18:2-5)
To catch Jesus' drift you need to hear the utter irony of his parable. The judge in the parable cares nothing about the needs of the widow, but God is exactly the opposite! He is the widows' passionate defender. God issues the strongest of warnings to anyone who mistreats them:
Any widow or orphan you are not to afflict. Oh, if you afflict, afflict them! For then they will cry, cry out to me, and I will hearken, hearken to their cry, my anger will flare up, and I will kill you with the sword so that your wives become widows, and your children, orphans! (Exodus 22:22-24, Everett Fox trans.)
In fact, God was well-known as "father to the fatherless, defender of the widow" (Psalm 68:5). But the word for "defender" here is actually shophet, (sho-FET), or "judge." A shophet is one who brings justice, in the sense of defending the helpless and vindicating the wronged. The hard-boiled magistrate of Jesus' parable couldn't be farther from God's reality.
You can hear Jesus smirking as he makes this laughably ironic comparison. If even a callous court official will help out an old lady who keeps pestering him, how much more will God, who passionately cares for widow and orphans! In this story, Jesus was exhorting his followers to be persistent in prayer, prodding us to boldly keep coming to God.
(Excerpt from Walking in the Dust of Rabbi Jesus, Zondervan, 2012)