Here's a little experiment for you. Right now, make yourself smile.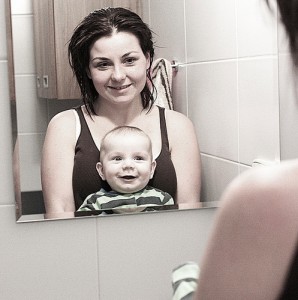 Look in the mirror.
Are you really, genuinely smiling? Or is it a little forced?
Okay, now make yourself laugh.
Did you fill the room with hearty guffawing? Or did you find it quite difficult?
Okay, now make yourself happy.
Are you truly brimming with joy?
You know, I bet you couldn't do it at all.
Why? Because happiness is a reaction to your circumstances, like smiling and laughter. You can't artificially make yourself happy, any more than you can make yourself laugh if you have nothing to laugh at.
Genuine smiling and laughter occur when something cheers you up or tickles your funny bone. You smile when you bump into a good friend at the grocery store. You laugh at a hilarious one-liner. Smiling and laughter are responses to things outside yourself, they aren't something you can generate on your own.
And, as much as our culture is convinced that happiness is the goal of life, it's impossible to will yourself to be happy.
In fact, the pursuit of happiness can frustrate that very goal. In Man's Search for Meaning, Jewish psychiatrist Viktor Frankl makes this point. He notes, "It is the very pursuit of happiness that thwarts happiness. The more one makes happiness an aim, the more he misses the aim."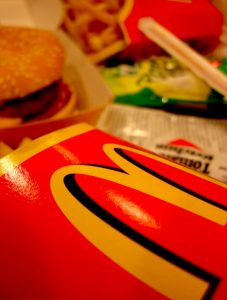 Here's what he means. What if you made each decision based on how it served your happiness? You get into college but instead of studying, you focus on frisbee-playing. Studying, after all, is tiresome, but your frisbee causes happiness to flood into your soul.
Each night for supper, you forgo boring health foods to feast at McDonald's, because it seems to make you happier. (Isn't that why they have "Happy Meals" there?)
You get married but a few years later, you meet someone else. So you tell your spouse that you have no choice but to leave — your happiness demands it.
How happy will you be in the end?
In our culture, "happiness" is such a priority that it has become an acceptable excuse for all sorts of short-sighted, selfish behavior. Of course it's fine to enjoy life and find ways to have fun. But happiness often eludes us when we consistently choose the "happy" thing over the better thing.
Viktor Frankl made another profound observation in his book — that what humans fundamentally desire is not happiness, but meaning. As a survivor of Auschwitz, he found that he and other prisoners could endure great suffering as long as they felt it had purpose. But as soon as they felt life had no meaning, they gave up, and nothing could stop them from dying. It was knowing that their lives had worth and dignity, that a loved one needed them to keep going, or that God was with them — that was what sustained them.
Frankl goes on to point out that when people see that they are fulfilling a worthy purpose, happiness is inevitable. When you persevere through difficult classes to earn your diploma, the pleasure you feel is real and long-lasting. When you see children you've raised grow into well-adjusted adults, heartfelt satisfaction is the automatic response. Happiness is almost unavoidable then.
Seeing that your life has purpose and being true to it is what leads, ultimately, to inner well-being.
Jesus' Purpose and Ours

Many a modern sermon has asserted that Christ's main goal was to teach us how to be happy, because that's what our culture thinks life is all about. But after reading Viktor Frankl, a new thought dawned on me.
When you read Jesus' words, what he really was preaching about was not happiness, but meaning. And not about finding your "personal" meaning. But God's true, ultimate purpose for the world, his plans to redeem sinners and heal creation.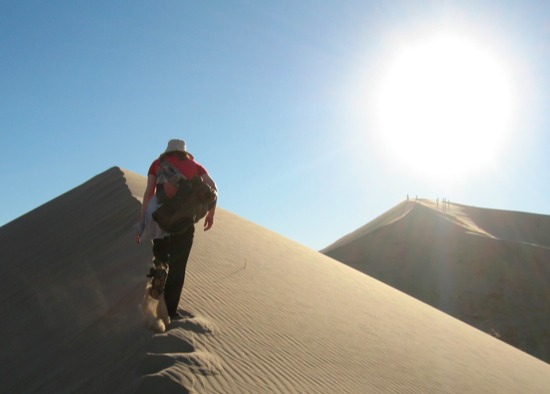 Christ's own life and ministry had just one purpose: the Kingdom of God. He knew he was called to establish God's loving reign on earth, no matter what it took, even his own death on a cross. His single-minded passion often comes out in his words:
"My food is to do the will of Him who sent Me and to accomplish His work."
"I must preach the good news of the kingdom of God to the other towns also, because that is why I was sent."
And he exhorts his disciples to "Seek first the Kingdom, and all these things will be added to you." Nothing else is important!
Jesus had a single task: to bring God's forgiveness to the world. He invited disciples to join him in his mission — to spread the Good News, to heal the hurting, and to even love their enemies. He knew it would be difficult and costly at times, and may even require their lives.
His first Jewish disciples got it — and they dropped everything to join him. They weren't following him to find happiness, but because they realized that this was the purpose for which they were created — to bring God's loving redemption to the world.