At this time of year, people everywhere are setting up nativity scenes. We're used to having an odd mixture of characters around the manger — some scruffy shepherds, some glittering angels, a few animals, and of course a brand new little family.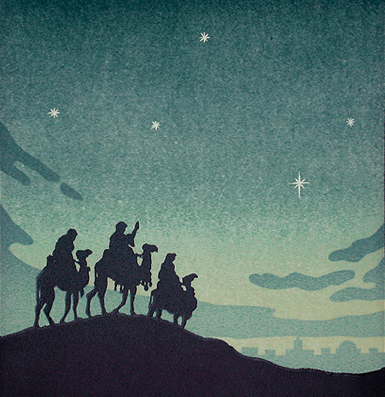 To many of us, the characters that are oddest are the magi, or wise men. Who were they? Where did they come from? Why did they give Jesus the gifts they did? And why do we picture them as three kings traveling on camels, even though the story in Matthew doesn't actually say this?
In order to understand the significance of the wise men, you need to know more about the Scriptures and the first-century world. The visit of the magi brims over with messianic expectations, and shows us the immense importance of the birth of Christ.
Expecting a King

The first question that we should ask is, why did they  expect a king to come? And why was Herod concerned? The answer comes from looking back at the Scriptures. In Micah 4, the prophet told of a messianic age when God would set everything right. Micah said that a king would arise from Bethlehem, the city where David had been born several hundred years before:
But as for you, Bethlehem Ephrathah,
Too little to be among the clans of Judah,
From you One will go forth for Me to be ruler in Israel.
His goings forth are from long ago,
From the days of eternity." …
He will arise and shepherd His flock
In the strength of the LORD,
In the majesty of the name of the LORD His God. Micah 5:2,4
The king that would come would be a descendent of David. This was the fulfillment of the key messianic promise that God had made to King David, that one day a descendent of his would reign over God's kingdom which would have no end:
I declare to you that the LORD will build a house for you: When your days are over and you go to be with your fathers, I will raise up your offspring to succeed you, one of your own sons, and I will establish his kingdom. He shall build a house for me, and I will establish his throne forever. I will be to him a father, and he shall be to me a son… I will set him over my house and my kingdom forever; his throne will be established forever. 1 Chronicles 17:10b, 14
This is the one who Herod feared, this great king that God himself would bring into power.
Gifts Fit for a King:

When a powerful king arose in a country, other kings would give him gifts to form alliances and show friendliness toward the influential ruler. David and Solomon, Israel's most powerful kings, formed many alliances with the nations around them. One story from Solomon's life is very reminiscent of the account of wise men, and can shed light on it for us:
When the queen of Sheba heard about the fame of Solomon and his relation to the name of the LORD, she came to test him with hard questions. Arriving at Jerusalem with a very great caravan — with camels carrying spices, large quantities of gold, and precious stones — she came to Solomon and talked with him about all that she had on her mind… She gave the king 120 talents of gold, large quantities of spices, and precious stones. Never again were so many spices brought in as those the queen of Sheba gave to King Solomon. (1 Kings 10:1-2, 10)
Notice that the queen of Sheba brought gifts, including gold, precious stones, and spices including frankincense. Sheba is at the southern end of the Arabian peninsula, where Yemen is today. It was known in ancient times as possessing fabulous wealth. Frankincense and myrrh were some of its most precious exports.
Spices don't seem very precious to us, but in the ancient world, some were outrageously expensive because of their rarity and use as perfumes, incense and medicine. Herod gained much of his fantastic wealth by exporting spices and taxing trading routes.
For millennia, camels have been used for transporting luxury goods along the spice trade routes of the Mediterranean, because they are the only animals that can survive the journey across the dangerously dry Arabian desert. That's the reason why we have the tradition that the travelers would arrive on camels.
Messianic Prophecies
With the story of the queen of Sheba in mind, consider these prophesies about the coming of the Messianic king:
He will rule from sea to sea and from the River to the ends of the earth… The kings of Tarshish and of distant shores will bring tribute to him; the kings of Sheba and Seba will present him gifts. All kings will bow down to him and all nations will serve him. For he will deliver the needy who cry out, the afflicted who have no one to help. He will take pity on the weak and the needy and save the needy from death. He will rescue them from oppression and violence, for precious is their blood in his sight. Long may he live! May gold from Sheba be given him. (Psalm 72: 8-15)
and
Nations will come to your light, and kings to the brightness of your dawn. … The wealth on the seas will be brought to you, to you the riches of the nations will come. Herds of camels will cover your land, young camels of Midian and Ephah. And all from Sheba will come, bearing gold and frankincense and proclaiming the praise of the LORD. (Isaiah 60:1-4, 6)
You may have noticed that Psalm 72:10 pictures kings from Tarshish, Sheba and Seba paying tribute to the future Messiah. This is where we get the tradition that the visitors were actually kings. Over the ages, Christian readers could see that Matthew 2 was a fulfillment of prophecy, so they inferred that the visitors were actually the kings of each of these three countries.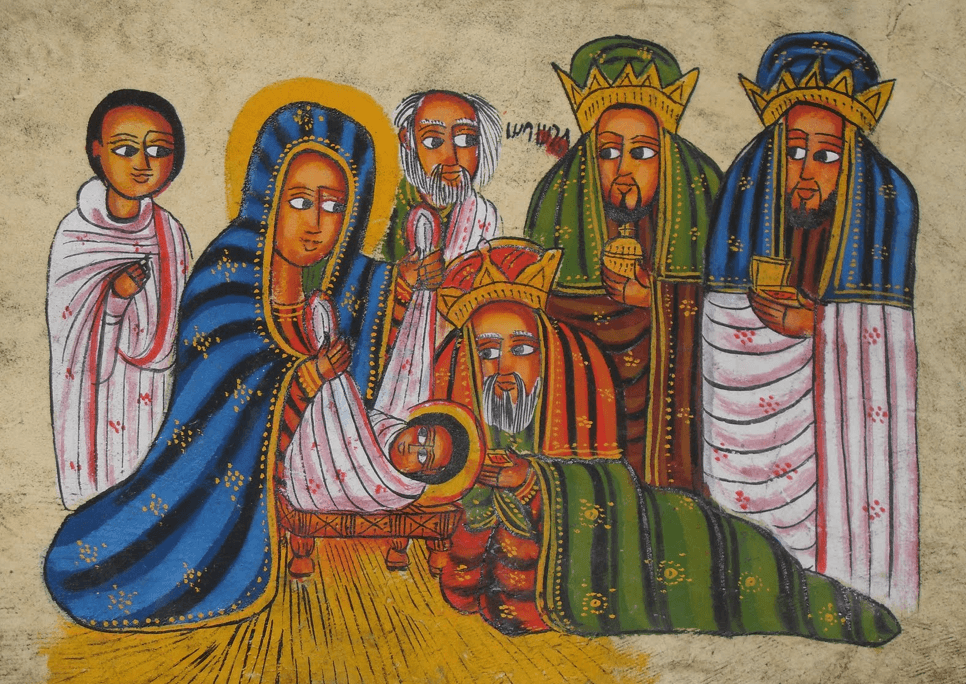 Why then do we find "wise men" instead of kings in Matthew? Most likely, because they were acting as royal ambassadors. In the Old Testament, kings often employed hakamim, "wise men," as royal counselors, who had been schooled in magical arts like divination and astrology. (Remember how Pharoah had magicians who imitated Moses' miracles, and how Nebuchadnezzer had wise men and dream interpreters too.) When these counselors in distant lands determined that a powerful ruler had arisen in Israel, they were sent as a royal delegation to bring gifts to pay homage on behalf of their leaders.
Heaven-Shattering News
We are unsure of what type of celestial event occurred, or how the magi interpreted it, but through some kind of divination these royal counselors learned that God's true king had been born in Israel.
What I find fascinating is what this says about how the spiritual world reacted to the coming of Christ. We know that the angels rejoiced to see that he was born. But the rest of the spiritual world was in an uproar too! As the angels were proclaiming their joy to nearby shepherds, demons in far away lands were telegraphing the news to pagan magicians, shuddering as they reported that the Son of God had just arrived on earth. Not only was he Lord of all the earth, he wielded ultimate authority over the spiritual world too.
The visit of the magi should remind us of the power and authority of Christ. His coming was not just earth-shattering but "heaven-shattering" news, rocking the spiritual world as well!