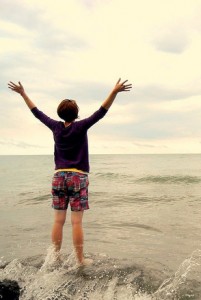 In Walking in the Dust of Rabbi Jesus I talked about Christian individualism. Our tradition greatly emphasizes the idea of isolating ourselves in order to experience God's presence, whereas Judaism emphasizes community.
Many Jewish prayers speak to God as "we" rather than "I." Their daily morning prayers actually require a minyan, the presence of at least ten men, even to be prayed! To them, praying together isn't optional, it's a necessity. Jesus, too, framed prayer in plural terms, telling us to address God as "Our Father…"
But contemporary Christians especially like to focus on God and me. In the book I shared about a large Christian service I attended where that was the focus of every song: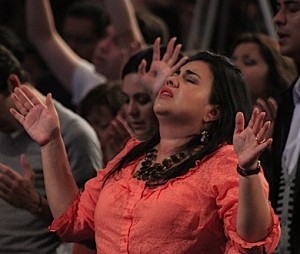 "I love you Lord, and I lift my voice,"…
"Just as I am, without one plea," …
"Here I come to worship, here I come to bow down…"
Hundreds of us were worshiping side by side, a sea of voices resounding together, and every one of us was pretending to be all alone! (Walking, page 57)
It's ironic that I experienced just the opposite culture clash at one of the first Hebraic services I attended many years ago. Everybody except me seemed to know the words to a lovely, rhythmic Hebrew tune, which we chanted over and over:
hi-nei mah tov u-mah na-yeem, shevet achim gam yachad
hi-nei mah tov u-mah na-yeem, shevet achim gam yachad

We clapped in time and occasionally broke into a chorus of "lai-lai-lai-lai-lai-lai-lai-lai-lai-lai."  Finally, we sang this mysterious line in English. Its words caught me by surprise:
"Behold how good and how pleasant it is when brothers dwell together in unity."
Wow! I've never sung anything like this before, I thought. This was definitely not a song written by a Christian praise team. For a moment I even wondered if it was appropriate for a service. Where was God in these words?
Later I learned that Hinei Ma Tov is a traditional Jewish hymn that is quite biblical. It is a quote directly out of Psalm 133:
How good and pleasant it is when brothers live together in unity! … It is as if the dew of Hermon were falling on Mount Zion. For there the LORD bestows his blessing, even life forevermore. (Psalm 133: 1, 3)
The point of this song is to rejoice in the community that God has provided for us. We are praising God for giving us to each other! And we are doing it by singing together. It's ironic what a polar opposite Hinei Ma Tov is to individualized Christian worship. There's no "God and me" anywhere!
In a very Jewish way, we were expressing our joy for something that Jesus prayed for. We were praising God for unity — the love of God in Christ that expresses itself between believers:
My prayer is not for them alone. I pray also for those who will believe in me through their message, that all of them may be one, Father, just as you are in me and I am in you… May they be brought to complete unity to let the world know that you sent me and have loved them even as you have loved me. (John 17: 20-21, 23)
~~~~
(You can listen to Hinei Ma Tov at a Paul Wilbur concert below:)
(Images: jmrichards, Ministerios Cash Luna)
(For the ultimate in God and me worship, see this link… it's pretty funny)