I'm excited to have two upcoming speaking engagements this fall. One will be a Saturday morning seminar at Grace Point Church in Topeka, Kansas on September 25, and the other will be a two-day retreat in Switzerland on October 22-23. (See links for info.) I was initially asked to come to Switzerland for a speaking tour, but instead we decided that I'll be speaking via Zoom instead. It's just too risky right now with Covid.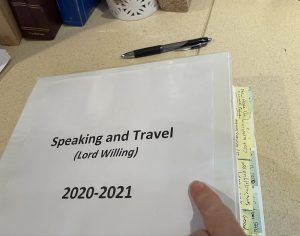 Back in March 2020, I had just gotten home from speaking in Mississippi and Louisiana when I started making my Switzerland plans, along with plans for Cincinatti, Dayton, Atlanta, Seattle and Houston. Then COVID struck and almost all of my travel was cancelled over the next year. Sigh.
I found myself listening again to James' words:
Come now, you who say, "Today or tomorrow we will go into such and such a town and spend a year there and trade and make a profit"— yet you do not know what tomorrow will bring. What is your life? For you are a mist that appears for a little time and then vanishes. Instead you ought to say, "If the Lord wills, we will live and do this or that." (James 4:13-14)
I used to see James' instruction to say "Lord willing" as a bit over the top. Now I'm starting to think differently, now that the delta variant is sweeping the globe and new disease outbreaks are filling hospitals to capacity yet again.
James must have lived in a world like we experienced in 2020, with pandemics and protesters, political fights and riots in the streets. He knew that in every era of history, humans have had their plans crumpled and squashed by larger forces around them. Wars, pandemics, famines and economic downturns have occurred in every generation. We shouldn't take our prosperity and peace for granted.
In Hebrew, Jews say "B'ezrat HaShem" (with the help of God) when they talk about plans for the future. In Arabic people add, "Inshallah," (if Allah wills it.) These Eastern-thinkers are already aware of our dependency on God. It's us in the West that don't think this way. As one Arab man put it, "In the West, man is very big and God is very far away."
Now I better understand the wisdom of thinking in terms of "Lord willing" and continually reminding myself of my smallness and dependency on God.
What now?
I've been doing more speaking online – Zoom sessions with groups and interviews on podcasts. I've also been working on figuring out how to make recorded seminars available for sale online as audio or video. (Any ideas or platforms you like? Please share.)
I'd love to have your prayers for my writing and speaking. If you'd like to know more about how to support my work, see this link.
~~~~~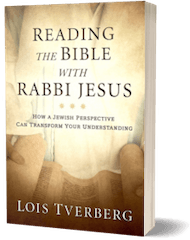 For more on Eastern vs Western thinking, see my book Reading the Bible with Rabbi Jesus. Or read my articles below:
In the West, Man is Big and God is Far Away
Reading the Bible from a WEIRD Perspective